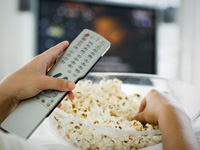 About 47 percent of total flat panel televisions shipped in four years will have Internet connectivity, as manufacturers bet on the expansion of Netflix and direct-to-consumer offerings from content producers like Time Warner's HBO.

This figure, about 138 million units, is up from 25 percent of flat panels shipped this year with WiFi capability, according to a quarterly report by DisplaySearch, a unit of research firm NPD group. By the end of 2015, more than 500 million connected TVs will be shipped, according to DisplaySearch.

It may be know coincidence then that Netflix jumped to an all-time high on Tuesday, the same day as the release of this report. Investors also seemed to cheer the announcement from the leader in Internet streaming that it would be expanding into Latin America. The company had previous success with its first international move into Canada.

"The adoption of connected TV is not just taking place in developed regions," said Paul Gray, DisplaySearch director of TV electronics research, in the report. "Emerging markets often have good broadband services, and there is a thirst from consumers to get the best content available."

The rapid adoption of TVs with Internet access will further complicate the battle for the living room taking place among many players. Content providers will have to balance the desire for more choice demanded by consumers between delicate negotiations with their largest customers: the cable companies.

"Netflix, Amazon and Apple are obviously banking on the idea that the cloud is going to be a game changer for home entertainment and that your TV is nothing but a big iPad that you shouldn't touch," said Patty Edwards of Trutina Financial and a 'Fast Money' trader.

For Steve Jobs, his Apple TV product has not taken off as fast as the iPad and the iPhone however. If most TVs are going to be connected in the future anyway, then perhaps the company considers focusing on having the best streaming technology through iTunes and considers dropping the lower-margin set-top box business?

"I'm long Tivo (TIVO) which has the best interface, allowing you to search both traditional cable channels and on-line content," said Adam Muller of hedge fund Chester Hill Capital Management.

And don't count the cable providers out just yet, investors said, because somebody has to provide the pipe. For example, Comcast is the largest broadband provider in the country.

Ironically, one of the losers may be the flat-panel makers themselves as this has become a commoditized business. Samsung is the top LCD equipment maker in the world and will likely give a update later this week.

"We expect the LCD commentary to remain cautious given continued soft LCD TV and PC sales," said Brian White, an analyst with Ticonderoga Securities, in a note. "The mobile internet is more interesting. While certain parts of Samsung's business may be challenged, we believe the company's mobile Internet portfolio is well positioned to benefit from the growth in smartphones and tablets."

For the best market insight, catch 'Fast Money' each night at 5pm ET and the 'Halftime Report' each afternoon at 12:30 ET on CNBC.