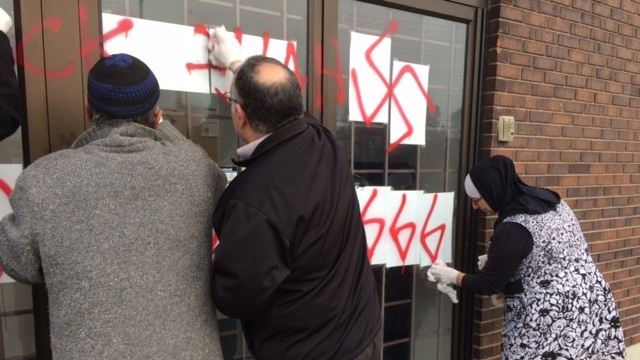 The authorities in Ottawa and Toronto are investigating a series of hate crimes incidents at places of worship and schools in their cities. According to Ottawa police, it is currently investigating two occurrences of hate graffiti on Friday after it received a call about red swastikas and racial slurs spray-painted on a local church.
The reverend of Parkdale United Church, Rev. Anthony Bailey, mentioned in his remarks that "the racial epithet that was used, it was directed at black people, myself as the pastor here." It was explained that "some of the vitriol that has come from south of the border has emboldened people to say, 'You know, I've harboured these sentiments for a long time, I feel permitted to do this now, to act it out.'" A short while later a similar complained was received from an Ottawa mosque, which became the fifth such incident in the city since Sunday, Nov.
Meanwhile Ottawa's Jewish community has also been targeted in three separate incidents. One of the incidents took place on Wednesday night at the Machzikei Hadas synagogue in southeast Ottawa, where swastikas were spray-painted on the door and anti-Semitic graffiti splashed over its brick walls and another similar symbols were sprayed on Tuesday at the door of a woman who runs a Jewish prayer centre in the Glebe. Speaking about the incidents, Rabbi Idan Scher alleged that "these words are far more than just words," adding that "these words are representative and bring back very, very scary images in our history."


Loading ...