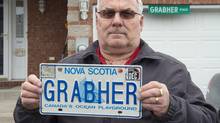 Nova Scotia's Lorne Grabher is thinking to go to court against the province's Registrar of Motor Vehicles after the later told Grabher that he can no longer use a custom licence plate that features his family name. According to Grabher, the Registrar of Motor Vehicles told them it would discontinue the registration of his custom "Grabher" plate because they received a complaint.
In his remarks, Grabher stated that "where does the province of Nova Scotia and this government have a person with that kind of power to discriminate against my name?" He explained to have originally had the vanity plate made in 1991 for his father's birthday as a way to proudly showcase their family name. Grabher stressed that the plate has been in the family since three generations including his son in Alberta.
According to Grabher, he received a letter by the Registrar of Motor Vehicles in December saying that they would not be renewing his plate. The letter from the director of road safety, Janice Harland, mentioned that "while I recognize this plate was issued as your last name, the public cannot be expected to know this and can misinterpret it as a socially unacceptable slogan." The registrar stated that certain slogans featuring socially unacceptable, offensive, or words and symbols that are "not in good taste" are not accepted on personalized licence plates. Grabher was unaware that the registrar has a 67-page list of words that are banned from personalized plates.


Loading ...