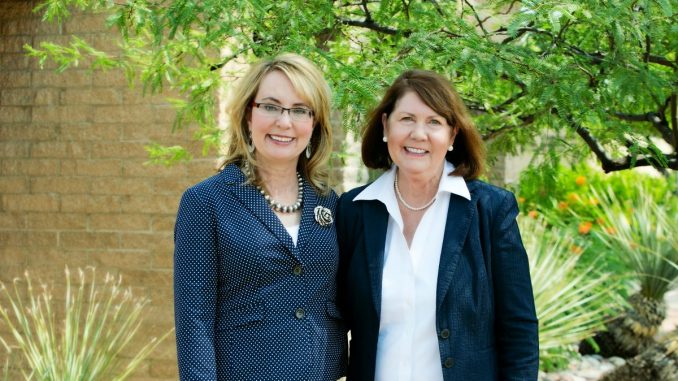 Four more female candidates for the U.S. House of Representatives are getting endorsements from former Congresswoman Gabrielle Giffords' gun violence prevention organization, Refinery29 has learned.
The latest batch of endorsed candidates includes Ann Kirkpatrick in Arizona's 2nd district, Angie Craig on Minnesota's 2nd district, Susie Lee on Nevada's 3rd district, and Veronica Escobar Texas' 16th district. All four are Democrats.
The announcement from the group, Giffords: Courage to Fight Gun Violence, comes as yet another tragic string of mass shootings — Las Vegas, Texas, and, just this week, California —thrusts the issue of gun control back into the political spotlight.
"Building a safer future for our families and our communities requires electing leaders with the courage and commitment to solving the gun violence epidemic that is damaging our country. These women come from a variety of backgrounds that give them the experience to understand the challenge we face," Giffords, who was shot while attending a constituent event in 2011, said in a statement to Refinery29. "They stand ready to protect the rights of law-abiding citizens while keeping guns out of the hands of violent felons, domestic abusers, and other dangerous people. As members of Congress they will not be afraid to take on the gun lobby in Washington D.C."
The former congresswoman founded the organization with her husband, combat veteran and retired NASA astronaut Captain Mark Kelly, in the wake of the Sandy Hook mass shooting in December 2012. So far, Giffords has endorsed
three veterans running for Congress
, including ex-Navy helicopter pilot Mikie Sherrill, and two female gubernatorial candidates: state Rep. Stacey Abrams in Georgia and Kate Brown, who is running for re-election in Oregon.
Isabelle James, political director at Giffords, told Refinery29 that the many Democratic victories on the 2017 Election Day signals that gun violence prevention is something that matters to voters — the wins of Ralph Northam, Mark Herring, and Chris Hurst, a first-time candidate and former television journalist whose girlfriend was fatally shot on air in 2015, are just a few examples from the races in Virginia.
"When it comes to gun violence, there are certain things we can all agree on. We can all agree that dangerous people like domestic abusers should never be able to get their hands on a gun, we can all agree that families shouldn't be afraid to go to church or go to a concert. Certainly, kids should never be afraid to go to school," James told Refinery29.
She said that women in particular have had the courage to stand up to the gun lobby and face the political music because they believe their stance can help make the U.S. a safer place. The four female candidates Giffords is endorsing — Craig, Kirkpatrick, Escobar, and Lee — have made gun safety measures a key issue in their platforms. For example, Kirkpatrick has sponsored legislation to stop domestic abusers from obtaining guns and Craig has called for a ban in bump stocks, according to James.
"Bottom line, these are candidates who have gotten things done and will get things done [in Congress]," she said. "We believe that these are candidates that will win their races. They've chosen to embrace gun safety and they're going to show that gun safety is a winning political issue for candidates in 2018."
Click HERE to read more from Refinery29



Loading ...