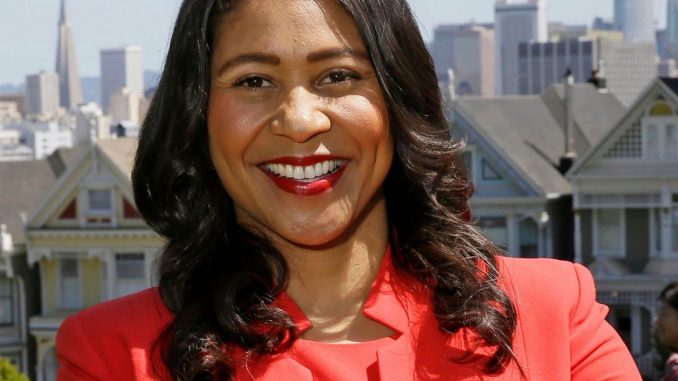 San Francisco elected London Breed as its first Black female mayor after her opponent conceded the neck-and-neck race on Wednesday.
Breed's election is a win for political representation of women and African-Americans. She's only the second female mayor of San Francisco.
Born in San Francisco, Breed, 43, grew up in public housing and was raised by her grandmother.
"[F]ive of us liv[ed] on $900 per month. 'Recycling' meant drinking out of old mayonnaise jars. Violence was never far away. And once a week, we took Grandma's pushcart to the community room to collect government-issued groceries," she wrote in an op-ed about affordable housing in 2016.
Breed received a master's degree in public administration from the University of San Francisco, and served as an executive director of the African American Art & Culture Complex before becoming involved in politics.
"I'm a native San Franciscan — I grew up in some of the most challenging of circumstances," she said in a press conference, according to CNN. "I think the message that this sends to the next generation of young people growing up in this city, that no matter where you come from…you can do anything you want to do."
She said her grandmother "probably had a hand in this, looking down from the heavens."
Currently, only eight of the country's 30 largest cities have
female mayors
. Of them, four are Black: Breed, Vi Lyles of Charlotte, Muriel Bowser of D.C., and Catherine Pugh of Baltimore. Atlanta (#40) has a Black woman mayor — Keisha Lance Bottoms — and so does New Orleans (#51): LaToya Cantrell, the first woman in the position, was recently sworn in. But major cities like New York City, Los Angeles, and Philadelphia have never had a female mayor.
More Black women are running for office than ever before, and that includes municipal government. At a special gathering of 19 Black female mayors in Washington, D.C., on January 26, 2018, the women present discussed the momentum Black women leaders are having.
"When I think about all of the people these mayors represent and the impact they can have on the political thinking in America, it blows my mind," Toni Harp, mayor of New Haven, CT, and president of the African American Mayors Association (AAMA), told Essence. "What occurs to me is that this is just the beginning — a beginning that indicates something has changed in America. One, that women are considered leaders, particularly African-American women, and that Black women are leaders in large cities and small cities [and] are trusted to take care of the overall political apparatus of that community."
Click HERE to read more from Refinery29


Loading ...