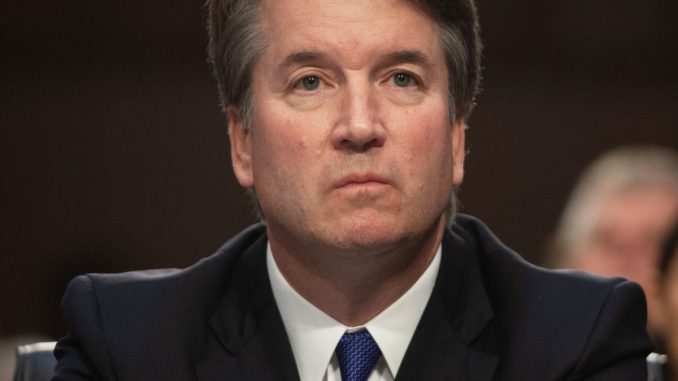 The Senate confirmation hearing for President Trump's Supreme Court pick Brett Kavanaugh got off to a contentious start Tuesday, with Democrats speaking up against the Republicans' attempt to withhold public documents and activists protesting the controversial nominee.
But a moment that stood out came right as Kavanaugh was being escorted out as the morning session came to a close.
Fred Guttenberg, whose 14-year-old daughter Jamie was one of the 17 victims killed at the Parkland school shooting earlier this year, attempted to approach Kavanaugh. But the nominee, whose conservative views on gun rights have earned him the support of the National Rifle Association (NRA), ignored the father.
Guttenberg tweeted: "Just walked up to Judge Kavanaugh as morning session ended. Put out my hand to introduce myself as Jaime Guttenberg's dad. He pulled his hand back, turned his back to me and walked away. I guess he did not want to deal with the reality of gun violence."
The moment was captured in an image by the Associated Press photojournalist Andrew Harnik and on video. Guttenberg tries to reach out to Kavanaugh, who looks at him stunned and then begins to walk away escorted by security. He didn't even acknowledge Guttenberg.
@fred_guttenberg
a contemptuous look before turning his back on him. Guttenberg's daughter was killed in the Parkland gun massacre
pic.twitter.com/Fz9e0gwytv
— Tommy Christopher (@tommyxtopher) September 4, 2018
The video seems to contradict White House Deputy Press Secretary Raj Shah's version of events. Shah retweeted Guttenberg's original post writing, "As Judge Kavanaugh left for his lunch break, an unidentified individual approached him. Before the Judge was able to shake his hand, security had intervened."
Guttenberg's daughter Jamie was described by her loved ones as a sensitive and intelligent teenager. She was a dancer and her favorite color was orange. After her death, Guttenberg created a non-profit organization in her honor and became a vocal anti-gun violence activist.
Click HERE to read more from Refinery29

Loading ...