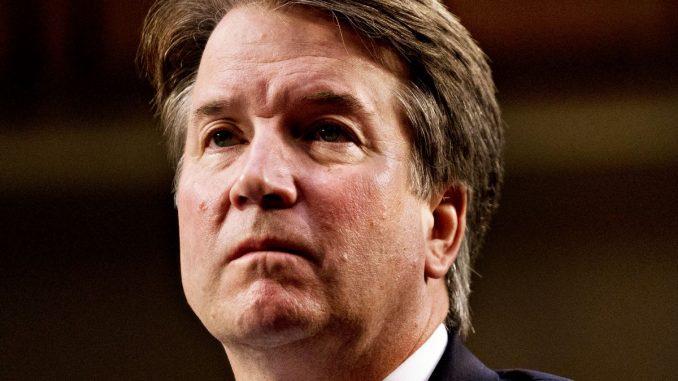 Judge Brett Kavanaugh's confirmation battle has continued to heat up this week as the FBI investigates the sexual misconduct allegations against him and Republicans try to force a full Senate vote.
Kavanaugh is an historically unpopular candidate: A recent poll says about 48% of U.S. voters oppose Kavanaugh. The allegations against him, which he has denied, include sexual assault, attempted rape, exposing himself, and thrusting his penis in someone's face without their consent.
In the aftermath of his testimony before the Senate Judiciary Committee and that of his accuser Dr. Christine Blasey Ford, Republican Sen. Jeff Flake forced Republicans and the White House to order an FBI background investigation "limited in scope and completed in less than one week."
Democrats have called the investigation a "farce" because of the its reported narrow reach.
Kavanaugh himself doesn't seem too worried about it either: Harvard Law students learned this week that he withdrew from teaching a course next semester, a move that seemed to point out he expects to be confirmed to the Supreme Court despite the allegations against him.
Below, the latest developments of the Kavanaugh saga. We'll continue to update this story as we see fit.
The FBI investigation could be completed as early as Wednesday.
The Times reports that the FBI has been "plowing through interviews" and that the investigation into sexual assault allegations against Kavanaugh is close to being over. According to NBC News, dozens of people with possible information relevant to the investigation have not even been contacted by the FBI.
Kavanaugh wrote a letter in high school which describes hard drinking.
In a handwritten letter from 1983 obtained by the New York Times, Kavanaugh wrote of his clique of friends' hard partying ways. "… Warn the neighbors that we're loud, obnoxious drunks with prolific pukers among us. Advise them to go about 30 miles," Kavanaugh wrote in the letter. During his confirmation hearing, the Supreme Court nominee denied to the Senate Judiciary Committee that he ever drank to the point of blacking out.Kavanugh signed the letter "FFFFF, Bart."
Kavanaugh reportedly tried to discredit his second accuser prior to her story becoming public.
Kavanaugh testified under oath that he didn't knew about the Deborah Ramirez allegations against him until the New Yorker published its story. But NBC News reported Monday that Kavanaugh and his team communicated with former Yale classmates Kerry Berchem and Karen Yarasavage prior to the publication of the story, asking them to go on-the-record and discredit Ramirez's claims.
Berchem also wrote a memo to the FBI, in which she alleges Kavanaugh "and/or" his allies "may have initiated an anticipatory narrative" as early as July, a full two months before the publication of the New Yorker article, in an attempt to "conceal or discredit" Ramirez and her story.
The FBI interviewed his friend Mark Judge.
Judge allegedly was in the room when Kavanaugh reportedly sexually assaulted and attempted to rape Dr. Ford at a house party in the early 1980s.
Despite being the only person to rebuke the claims before the Senate Judiciary Committee, Judge chose not to testify Thursday. However, he was interviewed as part of the one-week background FBI investigation into the allegations against Kavanaugh.
"Mr. Judge has been interviewed by the FBI but his interview has not been completed," his attorney Barbara Van Gelder said in a statement. "We request your patience as the FBI completes its investigation."
Kavanaugh's alcohol use came into focus again after reports he was involved in a bar fight.
The New York Times reported Kavanaugh was involved in a bar altercation in September 1985 that ended up with him and four other men being questioned by the New Haven Police Department. Kavanaugh, then a 21-year-old junior at Yale, reportedly threw ice at another patron while one of his friends threw a glass at the man.
Several former classmates of Kavanaugh have said he drank heavily in his youth and became "aggressive and belligerent when he was very drunk." Others have claimed he likely blacked out, though Kavanaugh denied this during his testimony before the Senate Judiciary Committee.
There will be a vote this week.
That's what Senate Majority Leader Mitch McConnell announced during an impassioned speech at the Senate floor Monday.
"The time for endless delay and obstruction has come to a close," McConnell said, apparently forgetting about how he blocked the nomination of Judge Merrick Garland — President Obama's moderate pick to fill the seat left by the late Justice Antonin Scalia — for 293 days. "We'll be voting this week."
Per Politico, McConnell is focusing his efforts on addressing the concerns of Sens. Susan Collins, Lisa Murkowski, and Jeff Flake while also trying to get them to support Kavanaugh on the final Senate vote.
Click HERE to read more from Refinery29


Loading ...