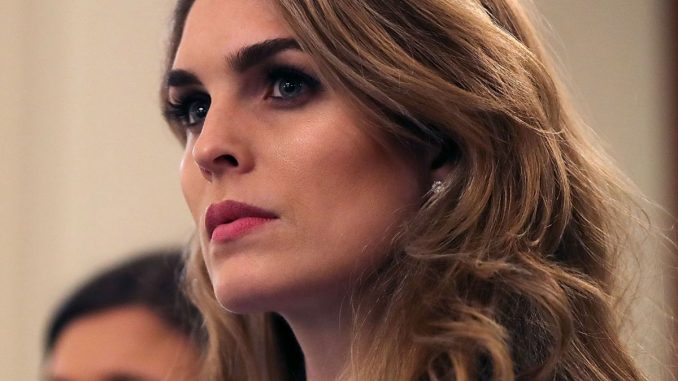 This article was last updated on April 16, 2022
In the latest employee transfer between the White House and Fox, it was announced that former White House Communications Director Hope Hicks will be taking on the role of Executive Vice President and Chief Communications Officer for New Fox — the parent company of Fox News, Fox Business, and others — bringing the presidency closer than ever before to the media conglomerate.
Her new role was announced on Monday by Fox's chief legal and policy officer Viet Dinh. As Dinh praised Hick's for her coordination of the administration's communication strategy, he said that she "will define and project Fox's voice to our relevant communities" in a message to staff.
Hicks previously worked on Donald Trump's presidential campaign and continued on to the White House before resigning in February after admitting to lying in her testimony to the House Intelligence Committee. Until her resignation, she was one of Trump's closest and longest-working aides. This is just one of many crossovers connecting Fox to the White House. Trump is old friends with Fox media mogul Rupert Murdoch. Additionally, earlier this summer, former co-president of Fox News Channel and Fox Business Network Bill Shine joined the White House staff as deputy chief of staff for communications. Trump has also hired a number of former Fox News employees to join his staff including: John Bolton who went from a Fox News contributor to national security adviser, former correspondent and co-host Heather Nauert who became undersecretary for Public Diplomacy and Public Affairs and State Department spokesperson, and Tony Sayegh who left his job as a Fox News commentator to become the Treasury Department spokesperson.
This transition comes at a time of great change for the company which is, in part, being bought out by Disney. In a deal including the company's movie studios and cable channel FX, Disney is buying most of 21st Century Fox excluding Fox News, Fox Sports, and the company's broadcast network and TV stations. That will become the new version of Fox that Hicks will be overseeing.
Click HERE to read more.

You can publish this article on your website as long as you provide a link back to this page.
You can publish this article on your website as long as you provide a link back to this page.