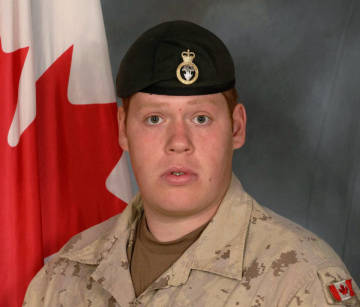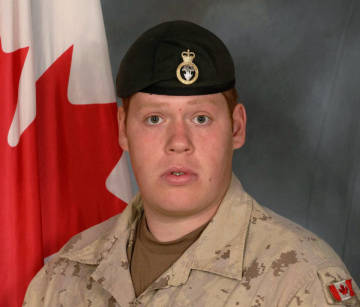 Surrounded by friends and family, a Canadian soldier critically injured earlier this month in Afghanistan has died in hospital in Edmonton.
Cpl. Darren James Fitzpatrick of Prince George, B.C., died Saturday afternoon at the University of Alberta Hospital. The 21-year-old with the 3rd Battalion Princess Patricia's Canadian Light Infantry was on foot patrol with Afghan forces on March 6 west of Kandahar city when he was badly wounded by an improvised explosive device.
"It (the return to Canada) was at the request of the family. And they did stabilize him well enough so that he was able to come back to Edmonton," Fraser Logan, public affairs officer at 1 Canadian Mechanized Brigade Group, said Monday.
"Our condolences do go out to the family and friends."
Fitzpatrick was on his first operational tour.
Family members declined interviews but issued a short statement through the military.
"Darren will be missed terribly by his family, friends and many people who loved him and were fortunate enough to have known him in this life. Despite our grief, we are immensely proud of Darren as such an incredible young man."
Others remembered Fitzpatrick on a Facebook website set up by friend Shantelle Marie.
In an email to The Canadian Press, she said Fitzpatrick grew up with two brothers – one younger and one older – and was very close to both.
He was born and raised in Prince George and was known as someone who would do anything for family and friends.
"He was the first Canadian soldier from Prince George in years and years," she wrote. "It's so sad to see a great person go at such a young age. He would have been 22 in June."
Prime Minister Stephen Harper released a statement in which he expressed his condolences.
"This incident is a stark reminder that the Canadian mission in Afghanistan is a difficult one, but the Canadian Forces are making a difference and are improving the lives of the Afghan people," said Harper.
"Cpl. Fitzpatrick is a Canadian hero and his sacrifice will not be forgotten."
Improvised explosive devices, or IEDs, have taken the lives of 85 of the 141 Canadian soldiers killed during the Afghan mission.
After the explosion, Fitzpatrick was treated at the Kandahar airfield hospital, then moved to Landstuhl Regional Medical Centre in Germany before being flown to Alberta on Friday.
His death is the first by a Canadian solider since Cpl. Joshua Baker, 24, of Edmonton was killed during a training exercise near Kandahar in February.