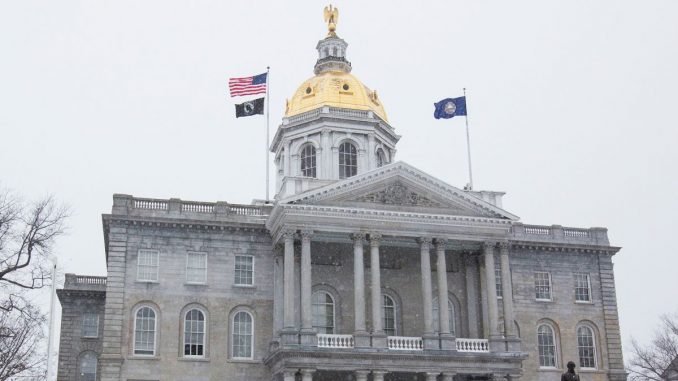 New Hampshire Republican lawmakers drew anger on Tuesday when they wore strings of fake pearls to a hearing on a proposed red-flag gun safety law.
The members of the Criminal Justice and Public Safety Committee who wore pearl necklaces included state Reps. Daryl Abbas, Scott Wallace, and David Welch, all of whom are up for reelection in 2020.
The Women's Defense League of New Hampshire, a conservative group that opposes gun safety laws, said they gave out the pearls to lawmakers who wanted to show their solidarity against what they call the "gun confiscation bill." But Moms Demand Action for Gun Sense in America volunteers, who flooded the statehouse wearing their signature red T-shirts to support the bill, saw the pearls as a mocking gesture toward survivors and advocates.
Shannon Watts, who founded Moms Demand Action after the Sandy Hook massacre, shared a photo of the lawmakers on Twitter. "Male New Hampshire lawmakers on the hearing committee wearing pearls to mock @MomsDemand volunteers and gun safety advocates," she wrote.
Male New Hampshire lawmakers on the hearing committee wearing pearls to mock @MomsDemand volunteers and gun safety advocates. #NHPolitics pic.twitter.com/rc1S3Bj9lG
— Shannon Watts (@shannonrwatts) March 5, 2019
Watts said she counted at least six members of the committee wearing the necklaces, all of whom were men. There are seven Republican men on the committee. At least one of them, Rep. Wallace, who has bragged about his A rating from the NRA, was also wearing a pin with a semi-automatic rifle on it while gun violence survivors recounted their experiences.
Sen. Kamala Harris, a
2020 presidential candidate
, tweeted in support of the volunteers. "Too many guns are falling into the hands of dangerous people, threatening kids' lives and making our communities less safe," she wrote. "These moms are fighting to confront gun violence and protect our children. They don't deserve to be mocked. We stand with you, @MomsDemand."
Republican, gun owner, and father of a son who died by gun suicide testifies in favor of the New Hampshire ERPO legislation. #NHPolitics pic.twitter.com/bLSjL1CnFo
— Shannon Watts (@shannonrwatts) March 5, 2019
A red-flag law, also known as an extreme risk protection order, allows family members and law enforcement to petition a court to temporarily take away firearms from somebody who may pose a risk to themselves or others. Fourteen states have passed these laws, which have become much more common since the Parkland shooting, and several more are considering them.
Watts told Refinery29 that the pearls seemed like references to "pearl-clutching," a sexist way to mock and belittle the women. "They did that to make light of the Moms Demand Action volunteers who were packing the statehouse because we're a political powerhouse," she said. "It was incredibly insulting to see them sit there wearing these symbols while their constituents were in tears about a child who had used a gun to die by suicide and a woman who had been threatened by an armed domestic abuser. Our volunteers include gun violence survivors, too."
Joe Sweeney, the communications director of the New Hampshire Republican Party, said the members of the Women's Defense League of NH were expressing their opposition to the bill, not mocking anyone.
"People's due process should not be infringed upon through judicial action without a full vetting process; it violates property rights and there's a slew of other issues," he told Refinery29. "We have a strong second amendment community in New Hampshire, and these bills do not have a place in our state."
Kimberly Morin, president of the Women's Defense League of NH, told the New Hampshire Union Leader that she has worn pearls to gun-bill hearings since 2016.
The PEARLS are in support of the Women's Defense League. Women who ACTUALLY PROMOTE GUN SAFETY and WOMEN'S RIGHTS #nhpolitics #HB687 pic.twitter.com/pd0Pjd8ZqT
— Kimberly Morin (@Conservativeind) March 5, 2019
"At the hearing for constitutional carry in Reps Hall, three of us were dressed in business professional clothes, wearing pearls, and someone from Moms Demand said they wouldn't testify because they felt they were in front of a firing squad," Morin said. "So we've been wearing pearls in defense of women's right and the Women's Defense League since then, because we are moms just like they are only on different sides."
Members of Moms Demand Action decided to reclaim the pearls and wear them to support their fellow volunteers in New Hampshire, posting photos of them on Twitter.
All that effort and you couldn't even be bothered to complete the look with a red lip? I made you a handy list of the @MomsDemand unform for future reference, NH Lawmakers. Pearls? ✅Lipstick? ✅ Blinged tee? ✅ pic.twitter.com/xtUlpoV4hQ
— Kara ❤️❤️❤️s Kamala (@karawrite) March 5, 2019
On this #tshirttuesday in Las Vegas, I have added pearls to my momiform to stand in solidarity with the New Hampshire @MomsDemand volunteers testifying on behalf of a red flag bill! You are on the right side of history and I SEE YOU! #KeepGoing #NHPolitics pic.twitter.com/hKMtZG6xW7
— lisa hendricks (@MsLisaHendricks) March 5, 2019
Opponents of the red-flag bill in the "Live Free Or Die" state argue that confiscating their firearms denies gun owners due process. They also say the laws are dangerous because they have bipartisan support, and "when both parties come together on legislative matters, nothing good can come out of it." Plus, they argue that New Hampshire already allows involuntary admission for psychiatric observation. Like many of those who oppose gun reform, they claim that mass shooters will get their hands on guns, law or not. (Statistics do not back this up. The states with the strongest gun laws have the fewest gun death rates.)
Proponents say that red-flag laws can prevent mass shootings by taking away firearms from people who pose a threat of harm to themselves or others. The mother of the Parkland shooter, for example, reportedly went to police about his behavior, but at the time Florida didn't have a law that would let them take away his weapons (the state passed one in the wake of the shooting). Analysis by Everytown for Gun Safety of mass shootings from 2009 to 2017
found
that in 51% of incidents, the shooter
showed warning signs
that they posed a danger to themselves or others before the shooting. A 2017 study of Connecticut's red-flag law found that for every 11 gun removals under the law, one suicide was averted. A
2018 study
found that Indiana's law "was associated with a 7.5% reduction in firearm suicides in the 10 years following its enactment."
Finally, advocates argue, red-flag laws have plenty of due process protections. Before issuing a final extreme-risk protection order, which can last for up to a year, the gun owner has a chance to respond to evidence that they are a risk in a hearing. A judge can issue a temporary order, which normally lasts 14 to 21 days, without a hearing, but only if "there's clear evidence that an order is necessary to prevent immediate danger," according to Everytown.
The pearl-necklace fiasco is not the only incident of intimidation that Moms Demand Action volunteers have experienced. "We are frequently harassed by lawmakers and gun extremists, it's become par for the course," said Watts.
One gun extremist waiting in the hallway to testify told our vokunteers that "Anyone wearing a Moms Demand Action t-shirt should be blown away." Another told survivors who were crying to "shut up." #NVLeg https://t.co/flW3bghMMQ
— Shannon Watts (@shannonrwatts) February 12, 2019
In Oklahoma, a member of an extremist local gun group printed out a petition by Moms Demand Action, signed by thousands, to stop the state's permitless carry bill from becoming law, and used the pages for target practice.
Audrey Burro, the Edmond, OK, Moms Demand Action group leader, said she joined the organization right after the Parkland shooting. She had just enrolled her daughter in pre-K and "realized that she's going to be going to school with a very real fear of an active shooter." Her class was already doing active-shooter drills. "I realized I needed to get involved."
"I see it as a slap in the face," Burro told Refinery29 about the pearl-wearing lawmakers. "Just like with our lawmakers here in Oklahoma. The vast majority of people in Oklahoma didn't want [the permitless carry] bill to pass, including law enforcement, but it did. To have the ear of your legislators and then use your position to mock and target volunteers who are working hard to prevent gun violence is a slap in the face, especially in light of the grief so many of us have experienced."
Watts said that she hopes this moment will encourage more women to run for office and vote out legislators who show disregard for survivors of gun violence. "This is what inspires women to run for office and take their jobs," she said. "Having compassion and an open mind is an important part of being a lawmaker."
"I'm a New Hampshire voter, and I will sure as hell remember these names," Katie Adams from Exeter, NH, tweeted.
We reached out to the New Hampshire state representatives involved and will update this story when we hear back.
Click HERE to read more from Refinery29


Loading ...