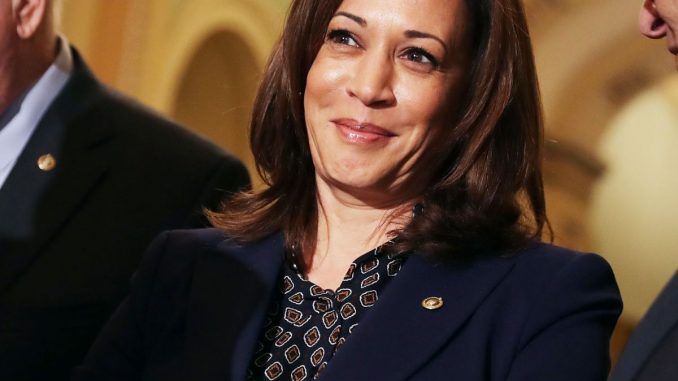 Sen. Kamala Harris announced the details of her plan to raise the average U.S. teacher's salary by $13,500 on Tuesday, according to a campaign aide. The first large-scale federal investment in teacher pay in U.S. history, it's also the first big idea of her campaign that doesn't come from her Senate legislative portfolio.
The facts are staggering: Teachers, the vast majority of them women, make 11% less than people with college degrees in similar professions.
There is also gender and racial disparity baked into the already low pay. Female teachers make $2,000 less per year than men, after accounting for education and experience; Black teachers earn $2,700 less per year than their white peers. And teachers are more likely to work a second job or leave their jobs because of the low pay.
Harris said that if elected president, she is committed to closing the teacher pay gap within her first term.
"We are not paying our teachers their value," Harris told Refinery29. "Teachers should not have to work two or three jobs to pay the bills. Our country's success is a product of the two groups who raise our children: parents and teachers. This proposal will lift up teachers and families across America, give every American teacher a raise, and make a much-needed investment in our country's future."
#RedforEd is about student success & respect for educators & public education. This should be central to the 2020 conversation. We applaud @KamalaHarris for focusing on attracting & keeping great educators in neighborhood schools! #StrongPublicSchools https://t.co/uqdzDSdJEQ
— Lily Eskelsen García (@Lily_NEA) March 23, 2019
The Department of Education would work with state agencies to set base salary goals for beginning teachers, and states and school districts would increase each teacher's salary until they meet the minimum goal. States will be required to fund teacher pay, rather than just replace existing education funding. The federal government will provide the first 10% of funding for each state, and then incentivize the states to do their part by investing $3 for every $1 they contribute.
Beyond that, the plan will invest more in schools with higher economic needs, and support teacher recruitment, training, and professional development programs, particularly at historically black colleges and universities (HBCUs) like Harris' alma mater, Howard University.
"Lower pay is one reason teachers of color are not proportionally represented in the profession, a devastating reality given they boost math and reading achievement, graduation rates, and college aspirations for students of color," says a statement from Harris' campaign. "If we're intentional in how we increase teacher pay, we can attack these disparities and strengthen families and communities that have been neglected for far too long."
The plan is estimated to cost $315 billion over 10 years, which would be paid for by strengthening the estate tax and "cracking down on loopholes that let the very wealthiest, with estates worth multiple millions or billions of dollars, avoid paying their fair share."
Research shows that people want the federal government to invest more in education. A new Pew Research Center poll found that 54% of Americans, including 66% of Democrats, think education spending should be a top priority for the government.
There have been numerous teachers' strikes nationwide in recent years in which teachers have called for higher salaries, from West Virginia to Oklahoma to Denver to L.A. Harris has expressed solidarity with the strikes including recent ones in Oakland, Denver, and L.A.
Teachers in Los Angeles are raising our nation's future. They deserve dignified wages for all the time and energy they invest both inside and outside the classroom. I stand with the #LAUSDStrike. pic.twitter.com/dBodZebjD7
— Kamala Harris (@KamalaHarris) January 18, 2019
Click HERE to read more from Refinery29


Loading ...