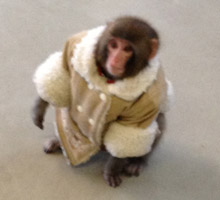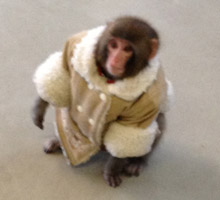 The five-month-old monkey, who was spotted in the parking lot of a Toronto Ikea store, has now been attained by the city's animal services department. The monkey was photographed at the scene by some shoppers on Sunday afternoon, who shared his story all over the social media, forming the content of international news stories.

A representative of Toronto's animal services department, Mary Lou Leiher, announced on Monday that the five-month old male monkey, named Darwin, is in "good health." She mentioned that he will no longer be living with his previous owners. In fact she alleged that the department will look for a better place for him to live, like a shelter capable of taking caring for him. Lou Leiher claimed that "we want to make sure he goes to a place where they're knowledgeable about how to care for him." She added that "he's a baby, he's a little bit sensitive." Lou Lehier explained that "this is why we have a bylaw against keeping prohibited animals in the city. The animal's safety was at risk and the public was at risk."

Leiher clarified that the previous owners of the monkey willfully co-operated during the process of transferring his ownership to the city. She pointed out that "they understand that the incident that occurred yesterday wasn't appropriate." The monkey was initially spotted and reported online by the shoppers at around 2 p.m. ET while they headed towards the Ikea store near Leslie Street and Highway 401.