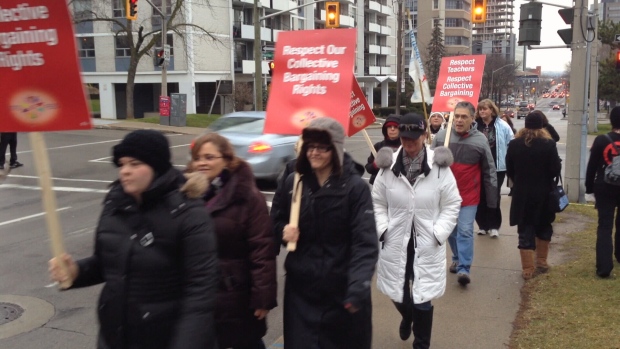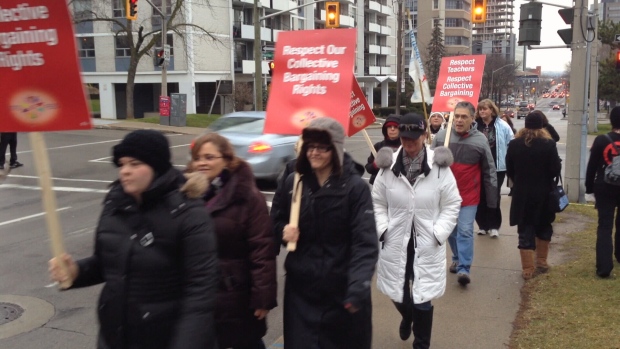 All the public elementary teachers of Toronto Greater Area will be observing a one day-long strike today as they continue protesting against the recent and controversial legislation giving the provincial government a right to enforce laws, freeze pay and cancel any future job actions. This Tuesday will have the greatest strike by teachers so far, hence it is often referred as "Super Tuesday," in the series of one-day rotating strikes which began last week.

The notice of single-day strike was issued three days in advance by The Elementary Teachers' Federation of Ontario. The strike will include teachers of schools from numerous regions, including public elementary schools in Toronto, Durham Region, Peel Region, Greater Essex County, Lambton-Kent, Grand Erie, Near North and Waterloo Region. An Estimated 35,000 plus teachers will demonstrate strikes today, which is almost half the strength of overall 76,000 teachers and education professionals represented by the ETFO. In Toronto, there will be pickets at most schools, the headquarters of the Toronto District School Board, the Ministry of Education and at the offices of four Liberal leadership candidates.

In consequence of the massive walkouts arranged on Tuesday, the Toronto District School Board will evidently shut down all the elementary and junior high schools for students. Moreover, the transport buses will not be running either, although the day care centers within the elementary schools are expected to remain open. Almost 3,000 teachers demonstrated a walked out in Windsor-Essex, affecting the daily routine of 24,000 students, with the city opening day camps and other activities for students.