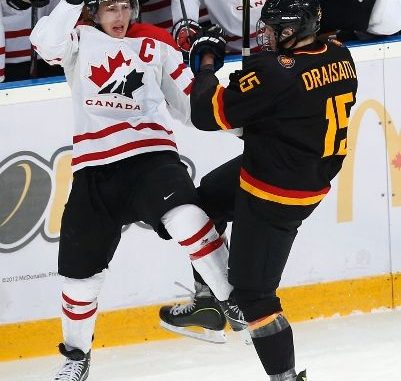 It will be safe to conclude that Ryan Nugent-Hopkins is least affected by the NHL lockout after the performance of The Edmonton Oilers' centre and 2012 Calder Trophy finalist in the opening match of 2013 world junior championship. Nugent-Hopkins scored five points for Canada on Wednesday, as it defeated Germany with an outstanding 9-3, while a crowd of 3,618 viewers witnessed his performance at Ufa Arena.

The overwhelming performance of Nugent-Hopkins in the last NHL season for the Oilers, an exceptional 52 points in 62 games for the Oilers last season, continued while he played for the Oklahoma City Barons during the lockout. Predictably, Canada's captain was chosen to be Canada's MVP of the game. Whereas, Leon Draisaitl was named the most valuable player of Germany's team. The remaining two goals were scored by Mark Scheifele, whereas Xavier Ouellet, Jonathan Huberdeau, Ty Rattie, Ryan Strome, Jonathan Drouin and Tyler Wotherspoon scored for Canada too.

Tobias Rieder scored for Germany while Canada was leading with a 2-0 lead in the first period, soon after which the Germans managed two successive goals, by Leonhard Pfoderl and Nickolas Latta on Malcolm Subban, as they neared Canada's lead of 6-3 in the second period. Luckily Scheifele managed to score a goal after struggling with Huberdeau and Nugent-Hopkins, making it the seventh score for Canada when only three seconds were left in the period. Drouin scored the eighth point of the match during the third period with assistance of Scott Harrington. The last goal was credited to Wotherspoon, who finalized the 9-3 lead when only three minutes were remaining.