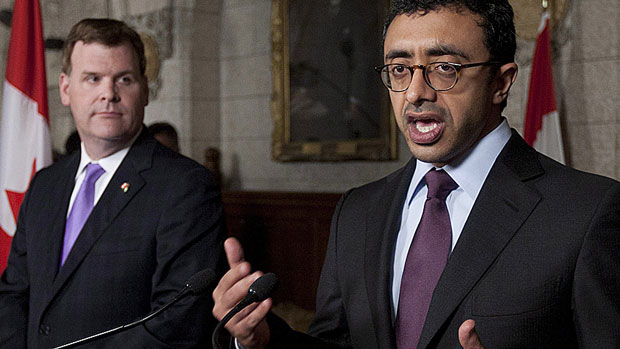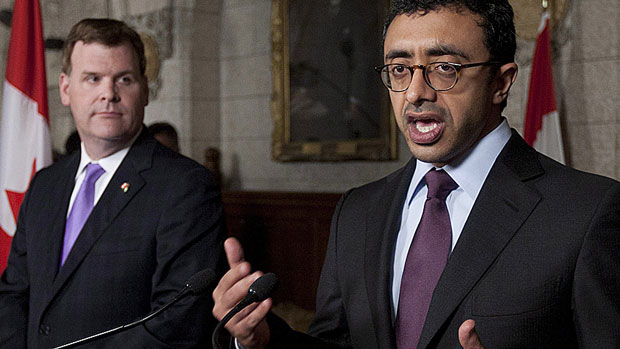 Soon after establishing a new diplomatic mission in Iraq, the Foreign Affairs Minister of Canada, John Baird, turned his attention towards eradicating a controversial visa obligation imposed on Canadians by the United Arab Emirates on Tuesday, as he reached the country. Relationships between the two countries got bitter in 2010 due to Canada's refusal of granting extra landing rights to Emirati airlines in Canada, which led to the closure of a key Canadian Forces staging base outside Dubai.

Next year, the U.A.E. made a surprise announcement of imposing a costly visa obligation on Canadians visiting the country. However, diplomatic frustration between the two countries calmed to some extent last year as Canada announced to sell nuclear technology to the U.A.E. At the same time, the U.A.E. made a subsequent announcement asserting to cut the fees for visas, although the requirement remains in place for the time being. Hence, the visa issue is widely anticipated to be the key topic for Baird's discussions with Emirati officials, although Baird's office refused on Monday to confirm whether or not progress will be announced.

Previously on Monday, Baird made an unexpected visit to Iraq, declaring to open a new Canadian diplomatic mission in the country. According to his schedule, Baird was expected to be in Jordan over the weekend, before he made the unscheduled trip to Iraq. All these brief tours are part of a larger trip of Foreign Minster to the Middle East, including the United Arab Emirates, Qatar, Bahrain, Cyprus and Israel.