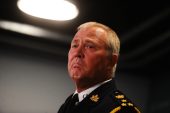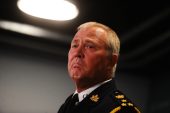 In order to regain public trust and redeem its repute following the fatal shooting of Sammy Yatim, Toronto's police chief, Bill Blair, has announced to have hired a retired Ontario judge and tasked him with the sensitive job of conducting an internal review of officers' use of force at the time he was responding to emotionally disturbed suspect.

In the announcement made on Monday, Chief Blair disclosed that retired Ontario associate chief justice, Dennis O'Connor, is given complete authority to conduct a review. The announcement was made only 24 hours in advance of a scheduled protest at police headquarters demanding justice in the shooting death of 18-year-old Yatim. Police Services Act makes it mandatory for police to conduct an internal review, however seeking an outside help is an unusual step for a Toronto police chief.

Explaining his decision, Blair mentioned that "I want the people of Toronto to trust the outcome. I want the people of Toronto to know our commitment to serve them in a way which is fair and just and professional." He stated that "I don't think I have to do this — I think it's the right thing to do . . . I think it is an appropriate time to seek outside help." The chief reported that he chose O'Connor due to his adequate history of objective public service, especially his leadership as commissioner of both the Walkerton Inquiry and the Arar Report.