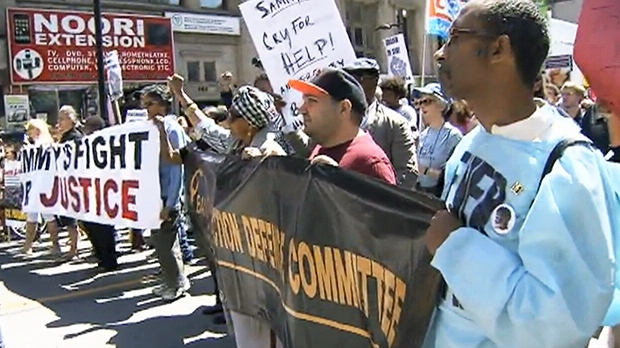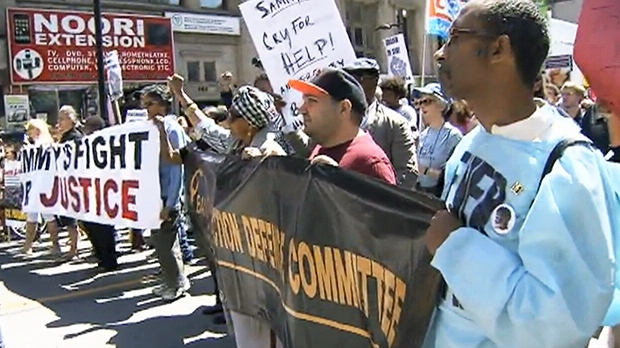 A protest rally spurred in downtown Toronto is demanding for justice in the death of Sammy Yatim, the 18-year-old boy shot nine times on a streetcar in a police-involved shooting incident in late July. The protest rally is joined by nearly 300 to 500 participants, who are planned to march from Yonge-Dundas Square to Toronto Police headquarters, and are chanting "No justice, no peace," while carrying various banners.

Among those marching with the rally is Yatim's mother, Sahar Bahadi. The group is headed towards the Toronto Police Headquarters on College St. before Toronto Police Services board meeting. Also in attendance are civil liberties groups, and Yatim's friends and relatives. A little before the rally initiated, a press conference was hosted by the Ontario Federation of Labour and the Urban Alliance on Race Relations, accompanied by family members of loved ones killed in some of Ontario's police-involved incidents, all of whom demanded strict actions calling for change in police training and practices. Majority of them stated that Yatim's death has "retraumatized" them, and wanted the province's ombudsman to consult them for discussing solutions and prevent similar deaths.

The vice-president of OFL, Irwin Nanda, stated that "we are demanding an independent investigation into police training, policies and practices from the highest levels of decision-making right down to the frontline response." This news conference and rally has been organized in less than a month after the death of Sammy Yatim, who passed away in the early morning hours of July 27.