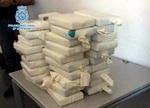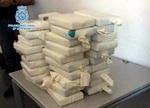 A joint operation of the Spanish National Police, the American DEA, the Royal Canadian Mounted Police, Europol and France's tax authority, has led to the arrest of four members of the Canadian Hells Angels who were in possession of half a ton of cocaine at the time.

In a press statement issued by the Interior Ministry, on Saturday Spanish National Police agents arrested four members of the Canadian Hells Angels in the province of Pontevedra in northern Spain. Additionally, two other members of their organization based in Spain were also arrested. Meanwhile, 500 kilograms of cocaine transported from Colombia in a yacht to the Galician coast by one of the members of the group was also seized.

The operation was a success due to a collaborative effort and research by numerous international authorities, which allowed police to manage and identify one of the group, whose role was to ensure that the cocaine was safely transported from South America to Spain, and had the responsibility of delivering it to the members of other organized groups in the country, also linked to the Hells Angels. Those organized groups were then responsible, and had the necessary infrastructure, to conceal the goods in warehouses until further distribution. Interior Ministry reported that one of one of the suspect was a "known member" of the San Diego chapter of the Hells Angels, while another was being investigated for suspected drug smuggling by the Royal Canadian Mounted Police for some time.