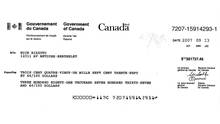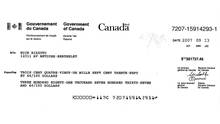 The Minister of National Revenue has announced to have launched an internal investigation to look into the $381,737 reimbursement cheque that was incorrectly issued in 2007 to mob boss Nicolo Rizzuto. Even though, The Canada Revenue Agency initially refused to unveil any further information regarding the cheque this week due to confidentiality rules, Commissioner Andrew Treusch has now disclosed to have decided to release a "public summary of the findings of its investigation when it is complete."

In a statement emailed on Friday, Revenue Minister Kerry-Lynne Findlay alleged that "Today, the Commissioner of the Canada Revenue Agency initiated an internal investigation to look into how this cheque, which has since been fully recovered, was incorrectly issued to Nicolo Rizzuto in 2007. We are committed to cracking down on crime and protecting the integrity of our tax system." The decision is quite different from traditional practices at the CRA, which indicates the extent of the disturbance the cheque has caused.

Court records and retired officials claim that at the time of the issuance of the cheque to Mr. Rizzuto in 2007, the CRA had a $1.5-million lien on his home, which meant he was not eligible for a reimbursement. During an interview, NDP MP Murray Rankin stated that "this suggests either incompetence or corruption." Retired CRA officials have disclosed that they could not comprehend how such a payment could have been approved, raising questions about a possible infiltration of the Mafia inside the agency.