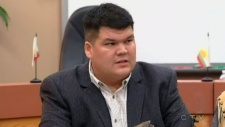 This article was last updated on April 16, 2022

Those opposing shale gas developments, most prominently including members of the Elsipogtog First Nation, beat drums and sang in celebration on Monday when a New Brunswick judge lifted an injunction ordering them to give up their blockade outside a compound owned by SWN Resources.
One of those named in the injunction, Suzanne Patles, claims she believes that ruling from the Court of Queen's Bench is a direct indication to the energy company to stop its exploration activities and leave the province. Speaking outside the courthouse in Moncton, she added that "they need to go the frack home and they need to realize that they are not above any law." The decision announced by Judge George Rideout detailed that an injunction is no longer required because equipment and vehicles owned by SWN Resources have already been removed from the compound near Rexton and the protesters are no longer blocking the road. On the other hand, former chief of Elsipogtog, Susan Levi-Peters, threatened that the community is ready to demonstrate wherever there is any shale gas exploration.
In an attempt to enforce the injunction on last Thursday, RCMP engulfed in a violent clash with protesters that resulted in seizure of weapons including improvised explosive devices and firearms, six police vehicles set on fire and 40 people arrested. Mounties later admitted having used non-lethal beanbag type bullets and pepper spray after the protestors tossed Molotov cocktails at them. Elsipogtog Chief Aaron Sock openly critiqued the Mounties actions and promised to keep up the fight against shale gas exploration in the province.
You can publish this article on your website as long as you provide a link back to this page.