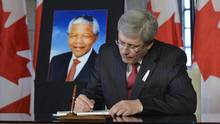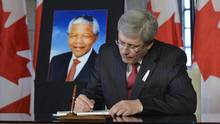 Prime Minister of Canada, Stephen Harper, has invited three of his predecessors to join him in attending a memorial of former South African president Nelson Mandela scheduled at his native country on Dec. 10. According to the Prime Minister's Office, among the former prime ministers who have confirmed their participation on Saturday are Kim Campbell, Brian Mulroney and Jean Chrétien. Mr. Harper's delegation will leave for Johannesburg on Sunday, in which all living former Canadian prime ministers are invited by PM Harper.

The Prime Minister and his delegation is scheduled to attend a largely formal memorial service arranged on Tuesday, Dec. 10, to be held in a soccer stadium on the outskirts of Johannesburg, along with his lying in state on Wednesday in Pretoria. At the same time, a book of condolence was set up on Parliament Hill, where Mr. Harper signed also on Friday morning. 95-years-old Nelson Mandela passed away on Thursday, i.e. a short while after he was commended by Mr. Harper who praised him in statement as one of the world's "great moral leaders and statesmen."

In his remarks, Mr. Harper stated that "He demonstrated that the only path forward for the nation was to reject the appeal of bitterness. His forbearance was legendary: his magnanimity spared all South Africans incalculable suffering." PMO has confirmed to have sent invitation to former Prime Minister Brian Mulroney. A spokeswoman for Mr. Harper's immediate predecessor, Paul Martin, revealed on Friday that there are "no plans to attend for now" as memorial service details were being finalized.