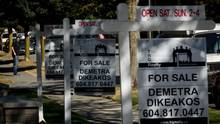 This article was last updated on April 16, 2022

According to a routine monthly report issued by the country's primary real-estate trade group, Canadian Real Estate Association, on Monday, it found that existing-home sales in Canada have overall increased by 0.3% in February from January due to the recovery of real-estate activity in several Canadian cities that were affected by harsh and unbearable winter weather. The association highlighted that home sales increased by 1.3% in February, when compared with a year earlier.
The CREA report stated that The Multiple Listing Home Price Index, i.e. calculated to compensate for fluctuations in the composition of sales, improved by 5.1% on year-over-year basis in February. Additionally, the report added that the number of newly listed homes increased by 0.6% month-over-month in February. It said that the number of regional housing markets where February sales were not up in areas where sales had previously declined, which indicates that there was negligible change in activity among most of Canada's large urban markets. Instead, CREA president, Laura Leyser, stated that "sales in February rebounded in some of the smaller local markets where activity was impacted by harsh winter weather in January."
It was calculated that the average and non-seasonally adjusted home price in Canada amplified by 10.1% year-over-year in February up to 406,372 Canadian dollars ($367,424). According to CREA report, the price raise is due to strong sales activity in some of Canada's most active and expensive markets, including the Greater Vancouver area.
You can publish this article on your website as long as you provide a link back to this page.