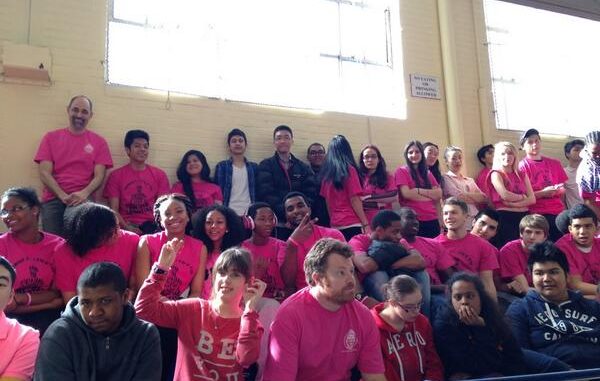 Students and staff at Toronto's Oakwood Collegiate Institute and Toronto Police celebrated the International Day of Pink with many others throughout the world on Wednesday. The ceremonious event held at the school mostly highlighted bullying, specifically homophobic and anti-LGBTQ bullying.

It took several weeks for the Students to develop the anti-bullying campaigns that were showcased for the first time at the event, including an anti-bullying pledge, dance and spoken-word performances, and a door-decorating contest. At the end of the ceremony, Toronto District School Board's director of education, Donna Quan, mentioned in a statement that "we are delighted to partner with the Toronto Police Service on initiatives that celebrate diversity." It was added that "the TDSB is committed to providing positive spaces for all students and staff." Meanwhile, on the other hand, The Harlem Globetrotters wore pink shirts while visiting the students at Claude Watson School for the Arts in North York.

The International Day of Pink was started by two Grade 12 students in Cambridge, N.S., in 2007. The two students decided to take action against bullying after witnessing a fellow student being bullied because of his sexual orientation, particularly because he wore a pink shirt to school. Thereafter, the two students convinced many others to buy and wear pink shirts to school in solidarity with the bullied teen. Consequently, the gesture sparked like fire and led to an elaborate anti-bullying movement that has since spread across the world. In 2012, 6.4 million people took part in Pink Shirt Day.