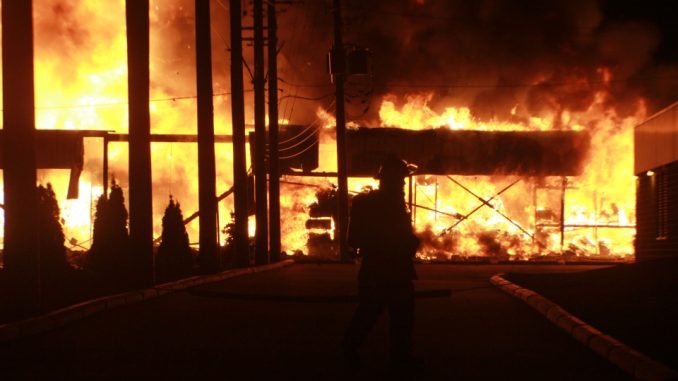 Four firefighters were rushed to nearby hospital after enduring serious injuries, among which one was in critical condition, after a massive blaze broke out at a warehouse near Toronto's Pearson International Airport. Paramedics arrived at the scene of a three-alarm fire on Thamesgate Drive, north of the airport, to treat four firefighters who had sustained injuries.

According to Peel EMS, all four of the injured have been shifted to a hospital while one of them is still in critical condition and the other three are receiving treatment for serious injuries. A Peel EMS update at 7 a.m. alleged that the worst of the fire was over. According to Mississauga Deputy Fire Chief, Kevin Duffy, at least one of the injured suffered smoke inhalation while the others suffered injuries when part of the building collapsed. Officials claim that the fire started at about 4:40 a.m. on Wednesday morning, whereas pictures and video of the scene show large flames and clouds of smoke billowing out of the building.

Peel police Const., Thomas Ruttan, explained that the building was being used to store imported goods and contained butane lighters and aerosol cans. Ruttan alleged that the officers cannot tell anything about the environmental impact of the fire yet, whereas the cause of the blaze will be investigated by the fire marshal. However, the witnesses in the area claim to have heard small explosions and loud popping sounds when the fire was at its peak. Peel police are warning people to avoid the area, and a number of surrounding roads have been closed.