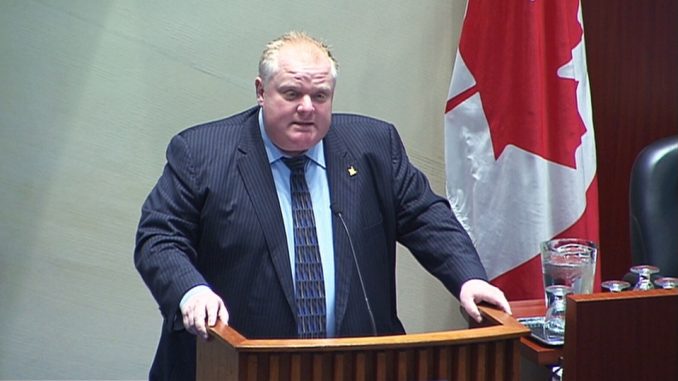 Controversial Toronto Mayor Rob Ford has vowed to move all above-ground portion of the Eglinton Crosstown underground if he's re-elected for the next term. Mr. Ford gave these remarks on Friday, promising to spend billions more to put the Scarborough portion of Eglinton Crosstown LRT underground.

Underlining one of his first concrete re-election campaign pledges, Mr. Ford stressed that "we cannot have a two-tier transit line that runs underground through the majority of the city, but leaves the residents of Scarborough, literally, out in the cold." Mr. Ford's unexpected promise on Eglinton has reignited another profound old transit battle. The mayor failed to approve his plan for the entire line to be buried back in 2012, when Councillor Karen Stintz secured a majority of councillors to vote to revive the Transit City light-rail plan. The plan currently approved by city council and Metrolinx aims to buld 19-kilometre Eglinton Crosstown starting from Mount Dennis to travel underground for 10 km from Keele St. to Brentcliffe Rd. and then go above ground along Eglinton Ave. E. to Kennedy Rd.

Officials have speculated the cost of the project with only 10-km stretch of buried LRT is approximately $5.3 billion. Meanwhile, Metrolinx officials refused to speculate on Thursday on a cost estimate with the entire line buried underground. According to the previous estimates calculated in 2012, transit officials speculated the entire cost of the project with the entire line buried underground to be around $8.2 billion.