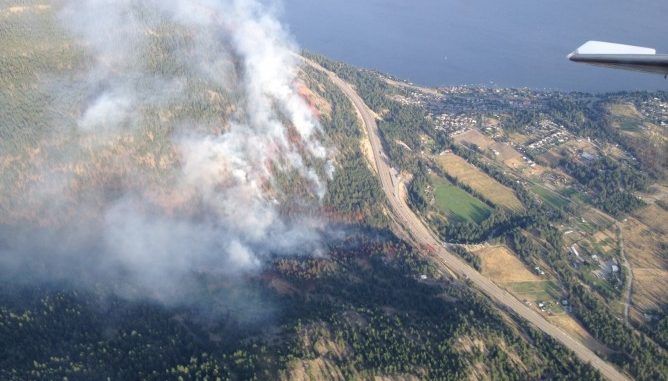 Okanagan Fire crews have recently encountered, and are currently engaging, a blaze near the Okanagan Connector between Peachland and West Kelowna. According to details provided by Fire Information Officer, Kelsey Winter, the Drought Hill Fire spread very quickly and has now expanded up to 30-hectares in size.
Winter explained that "it's mostly just because of the hot weather. It's also in grass and open timber… a lot of dry, dead needles on the ground. So, that really increased fire activity. It was also burning upslope." The firefighting has resulted in evacuation of a nearby home. According to Winter, there is also a chance of Highway 97 (Okanagan Connector) being shut down if conditions get worse. Winter elucidated that "if we increase air and ground operations, we may shut down another lane of the highway. But right now, it's open." According to fire officials, the fire is believed to have been ignited by an abandoned campfire or a lit cigarette.
Winter complained that the fire department is coming across more and more fires caused by people. He alleged that "every human-caused wildfire takes resources away from us responding to naturally occurring wildfires. As we head into more thunderstorms and more hot and dry weather, we really need those resources to be available for the naturally occurring wildfires." In efforts to curtail the spreading and extinguishing the fire, officials are using airtankers, water bombers, helicopters and several ground crews. Additional help has been sought from The Peachland and West Kelowna fire departments to fight the almost 56 active wildfires burning in the Kamloops Fire Centre.