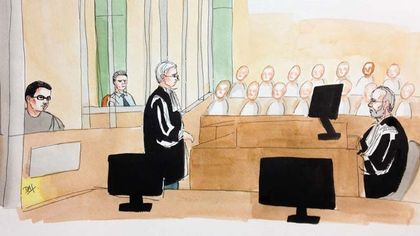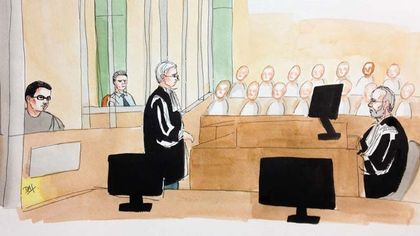 On the second day of Luka Magnotta's murder trial on Tuesday, the court was told that he mailed body parts of murdered Jun Lin, like hands and feet, to political parties and two schools. It was explained that the body parts were gift-wrapped in pink paper, one of which was even addressed to prime minister's wife.

The trial was shown photos of several boxes that contained the body parts, which were received by the federal Conservative and Liberal parties and two Vancouver schools after Lin was killed and dismembered on May 25, 2012. One of the handwritten note misspelled the maiden name of Prime Minister Stephen Harper's wife Laureen Harper, born Laureen Teskey. It stated that "Lauren Tesky, you know who they are. They f***ed me big time." Whereas, another box received by False Creek elementary school in Vancouver had a vulgar poem, also written on a small piece of pink paper. It stated that "roses are red, violets are blue. The police will need dental records to identify you. Bitch." In addition to that, a box sent to St. Georges School had a note that read "Die Bitch, Soon" and another had a black heart drawn on the inside.

All of the boxes, which went through the Canada Post system, contained pink tissue paper. The packages were sent under false names, including Hubert Chretien from Gatineau, Que. and L. Valentini from St. Catharines, Ont. The 32-year-old former porn actor from Toronto has admitted to killing Lin, an engineering student from China.