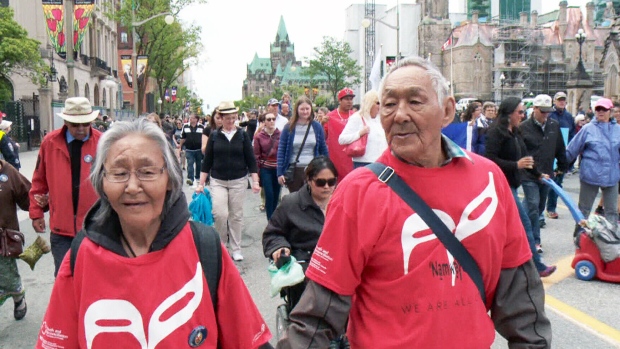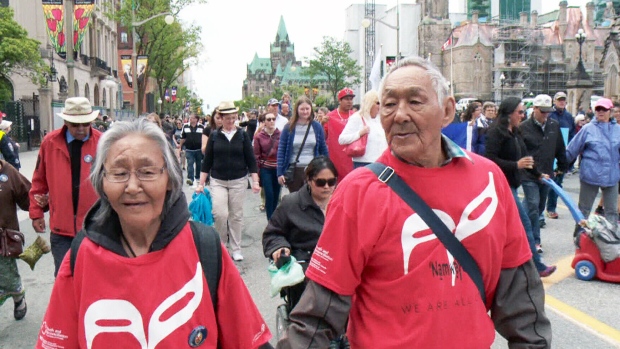 In a march arranged by residential school survivors, hundreds participated along with their friends, family and supporters to walk through Ottawa on Sunday in the name of reconciliation and healing. The group of more than 5,000 people marched for almost five-kilometers route from Ecole secondaire de L'Ile in Gatineau, Que., across the Ottawa River, past Parliament Hill, ending at Ottawa's City Hall.
Organizers claim that the walk marked the beginning of the Truth and Reconciliation closing events in Ottawa. A commission launched in 2008 under a five-year mandate is supposed to release its final report in Ottawa on Tuesday. Daughter of one of the couple attending a day school on a reserve in Kahnawake, Que, Carrie Diabo alleged that "it's a historical event," adding that "it's something you'll never see again and it's part of the healing."
A residential school survivor, Richard Mark, walked with his grandson, Willow Katapatuk, on his shoulders. He wanted to participate in the five-kilometre walk "to get the truth out," revealing that as a child he attended a residential school in northern Quebec for nine years, from age three until the school was shut down when he was 12. According to Mark, he suffered sexual, mental and spiritual abuse during the time. He stated that "for six years of my life, I was tormented," and "I'm looking for healing." More than 150,000 First Nations children in Canada who were forced to leave their families and attend residential schools claim to have faced abuse and neglect.