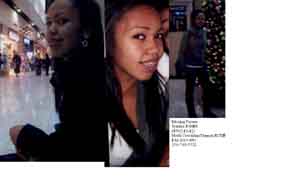 Update: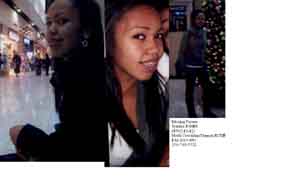 Shortly after 11:00 am this morning, searchers located a woman's body in a wooded area off of Indian Road in Duncan, BC. The Vancouver Island Integrated Major Crime Unit, the North Cowichan/Duncan RCMP and the RCMP Forensic Identification Section are actively investigating the scene of this discovery.
Investigators believe this is the body of 18 year Tyeshia Jones. Police suspect the involvement of foul play. Official confirmation of identity, and cause of death, is pending. The BC Coroners Service is now involved.
Tyeshia's family have been notified of the discovery, and officers remain with the family at this time, pending official confirmation of identity.
A substantial amount of resources have been invested throughout the week, to locate Tyeshia, who was reported missing on Saturday, January 22nd, 2011. A team of police officers and search and rescue technicians, at times approaching one hundred strong, worked tirelessly to locate Tyeshia.
The RCMP Forensic Identification Section are currently processing the scene where this body was located. This examination is expected to take several days, given it's scope and the complexity of the terrain. Police have cordoned off a large area of land, bordering Indian Road.
Investigators are very conscious of the impact this discovery will have on the community. We assure the public that every necessary resource from across Vancouver Island is working to advance this investigation. We will update the community with further details as the investigation permits.
Background:
During the afternoon of Saturday, January 22nd the mother of 18 year old Tyeshia JONES attended the North Cowichan/Duncan RCMP Detachment concerned as she hadn't heard from Tyeshia since late Friday night.
During the late evening of Friday January 21st Tyeshia had been at a gathering at her friends residence on the 5000 block of Miller Road, Duncan. Tyeshia was supposed to spend the night at the Miller Road address however wasn't there in the morning. Police have determined that sometime during the night it appears that Tyeshia left the gathering on Miller Road and walked along August Road. A Friend of Tyeshia's indicates that sometime around 3:00 am Tyeshia sent a text message while walking on August Road. At the time of the text message Tyeshia was enroute to Superstore in Duncan to meet with her friend. Tyeshia didn't show up and hasn't been heard from since.
Police have been actively investigating in an attempt to determine the location of Tyeshia. Investigational steps that police have undertaken to date include checking for bank records, reviewing cell phone records, as well as interviewing friends and family of Tyeshia. Search and Rescue have been activated who along with police are searching the area surrounding where Tyeshia was last seen.
Tyeshia JONES is described as the following.
– First Nations female
– 18 years old
– 120 lbs
– Long black hair
– Braces
– Last seen wearing a black jacket, blue jeans and black boots.
Police are asking for the assistance of the public in hopes of locating Tyeshia JONES.