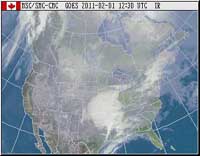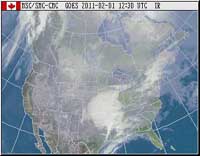 The latest from Environment Canada for
Toronto as of 5:21am EST
Winter storm warning for City of Toronto upgraded from Winter storm watch
Major winter storm tonight into groundhog day. [Groundhog day = Feb 2]
Light snow in advance of this winter storm is moving across Southern Ontario this morning with some locales near Lake Erie expected to receive 2-4 cm of the white stuff before tapering off to isolated flurries by this afternoon. However heavy snow from the winter storm will arrive in Southwestern Ontario this evening and quickly spread northeast to the greater Toronto area by shortly after midnight and into Eastern Ontario by Wednesday morning. Widespread total snowfall amounts of 20 to 30 cm are likely before the snow tapers off Wednesday afternoon in the wake of the storm centre.
In addition strong and gusty east winds will develop with the snow. This will cause local and frequent whiteout conditions in blowing snow resulting in near blizzard conditions at times.
Lake effect snow bands coming in off Lake Ontario in the stiff northeasterly flow may dump an additional few centimetres of the white stuff onto parts of the Golden Horseshoe around the west end of the lake today. There is some potential for one of these bands to intensify into a snow squall at times..With very low visibility possible in bursts of heavy snow and blowing snow there today.
The snow may change to ice pellets and freezing rain for a while tonight and tomorrow morning for regions near Lake Erie.
This will be the first Major winter storm of the season for the Toronto area..And the strongest storm of the season for many regions outside the traditional snow belts. The heavy snowfall and blowing snow will cause whiteout conditions making for extremely hazardous driving conditions.
This major winter storm is quite large in size and will have a major impact on travel especially tonight and on Wednesday.
This is a warning that dangerous winter weather conditions are imminent or occurring in these regions. Monitor weather conditions..Listen for updated statements.
A major winter storm is over Texas is now aiming itself towards the lower Great Lakes. This storm will track northeast towards Southern Ontario today..With the storm centre expected to track through Northern Ohio tonight then into New York state on Wednesday. Major winter storms originating in Texas usually have a fairly large band of heavy snow in areas on the cold..Or north side..Of their track..With maximum total snowfall amounts often reaching 30 cm. This winter storm is no exception.
The public should be prepared to change plans accordingly to avoid unnecessary travel during the storm as travelling conditions will be dangerous at times.
Environment Canada continues to monitor this dangerous winter storm and will issue further watches and warnings as necessary.
Click
HERE
to read more from William Belle.