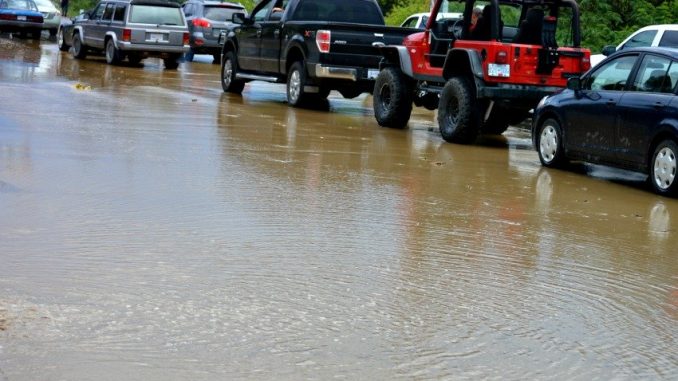 B.C.'s South Coast is facing strong winds and rain storm on Thursday morning that have already caused flooding, power outages for tens of thousands, school closures and travel disruptions. Sources have confirmed that over 117,000 BC Hydro customers are without power across Metro Vancouver and the Sunshine Coast, along with thousands more on Vancouver Island and in the Gulf Islands. The windstorm started late Wednesday night and continued through on Thursday morning.

Witnesses confirm that a number of trees have fallen down on power lines. More than 11 schools have been closed in Surrey, along with four in Abbotsford and four in Mission. Delta has also activated an emergency operations centre because of localized flooding in the Boundary Bay/Beach Grove areas. According to the Mayor of Delta, Lois Jackson, crews have been scrambling to sandbag and pump water out of the flooded streets since 5 a.m. since approximately nine houses have been affected by overflowing dikes and engineers are out in full force to assess the damage. Mayor Jackson pointed out that "we have a lot of trees down, and there is a large swath of Delta without power," adding that a private hospital is running on a generator.

A spokeswoman for BC Hydro, Simi Heer, have explained that "we are dealing with tree-related outages so trees and branches falling on power lines." According to Heer, the most affected areas include Langley, Surrey, Abbotsford, Pitt Meadows and Chilliwack but there are a few downed power lines in North Vancouver too.