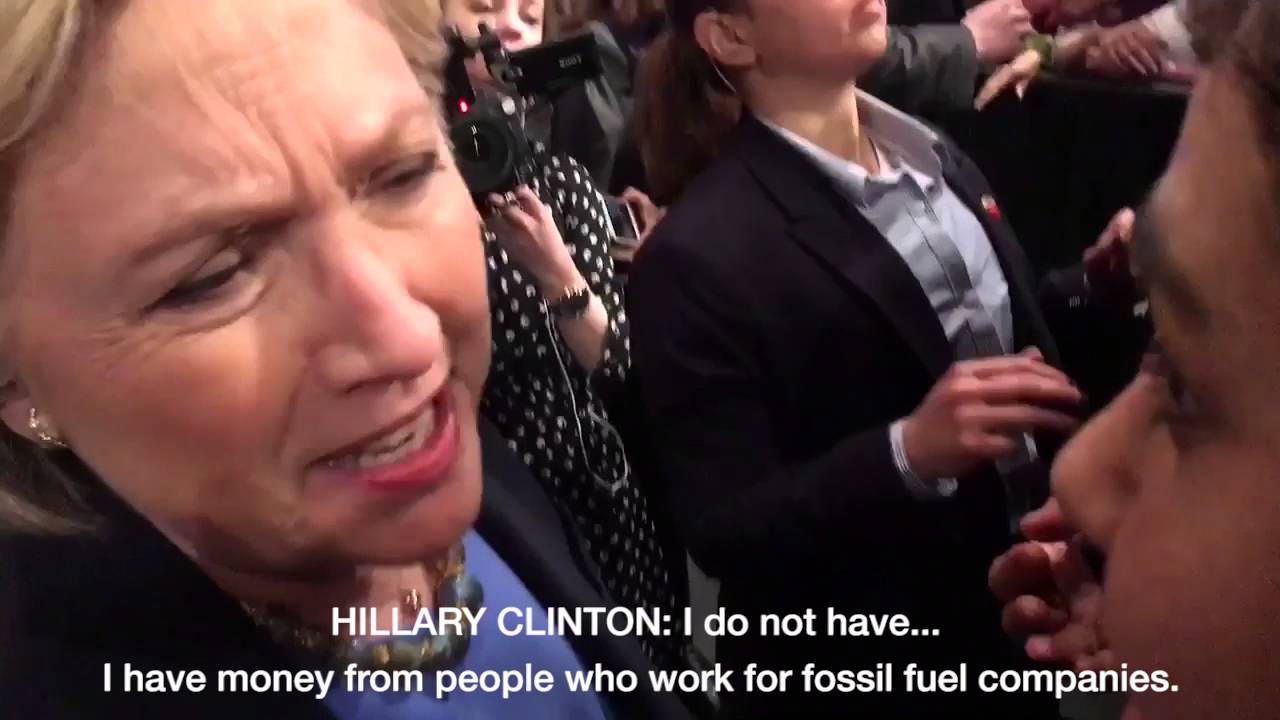 This article was last updated on April 16, 2022
Canada:

Oye! Times readers Get FREE $30 to spend on Amazon, Walmart…
USA:

Oye! Times readers Get FREE $30 to spend on Amazon, Walmart…
This particular "exchange"
between Hillary Clinton and
Eva Resnick-Day
from Greenpeace in late March 2016 provides us with an interesting glimpse into the current race between the two Democratic presidential candidates:
My, but Ms. Clinton certainly can wag that grandmotherly finger when she gets her dander up, can't she?
Let's reiterate the key points from the pledge:
"I pledge allegiance to a democracy of, by, and for the people.
If elected, I pledge to fight for a people-powered democracy where every voice is heard
By defending the right to vote for all, and
Supporting common-sense measures like public funding for campaigns and overturning Citizens United to ensure a government by and for the people, not the biggest donors.
And I will prove that I work for the people by refusing money from fossil fuel interests and by championing these solutions for a people powered democracy on the campaign trail."
"I believe it's time to reclaim our democracy, reform our distorted campaign finance system, and restore access to the ballot box in all 50 states.
That starts with reversing Citizens United. As president, I'll appoint Supreme Court justices who recognize that Citizens United is bad for America. If necessary, I'll fight for a constitutional amendment that overturns it. But I won't stop there—I'll also fight to increase transparency in our politics by requiring federal contractors to fully disclose their political spending and calling on the Securities and Exchange Commission to require that publicly traded companies do the same.
And I'll get rid of the special tax breaks that are going to oil and gas companies and use that money to invest in making America the clean energy superpower of the 21st century. There's a reason that the Koch brothers have pledged to spend hundreds of millions of dollars in this election—because they want a Republican who will dance to their tune. The fossil fuel companies know my agenda is to stop their agenda. I will take them on and win—and make sure America leads the fight against climate change.
And I believe nothing is more vital to our democracy than protecting our right to vote. We should be making it easier to vote, not harder. I'll fight to restore the full protections of the Voting Rights Act. I believe all Americans should be automatically registered to vote on their 18th birthdays, unless they opt out. Every state should have at least 20 days of early in-person voting. And no one should ever have to wait more than 30 minutes to cast a ballot.
Citizens United and its aftermath have twisted and perverted our democratic system. Now the deck is stacked even more in favor of those at the top. But as Al Smith, another Democrat from New York, once said, "All the ills of democracy can be cured by more democracy." So that's what we need now: more transparency, more accountability, and above all, more citizens exercising their right to vote."
You will notice that there is absolutely nothing about Ms. Clinton rejecting support from the oil and gas sector.
While Hillary Clinton's $307,561 is far less than Ted Cruz's $1,013,249, it is nearly six times Bernie Sander's oil and gas sector contributions of $53,760 and thirty times as much as Donald Trump's $10,763.
1.) In-house oil and gas industry lobbyists have donated $20,050 and in-house company lobbyists have bundled an additional $140,400.
2.) Lobbyists hired by the oil and gas industry have donated $109,750 and nine hired oil and gas industry lobbyists have bundled an additional $1,186,810.
Of all 54 in-house and hired oil and gas sector lobbyists, 43 made the maximum allowable contribution of $2,700.
3.) Lobbyists hired by the coal sector contributed $8,600 with three of the four contributing the maximum of $2,700.
This brings the combined total direct and bundled contributions from fossil fuel company lobbyists to $1,465,610.
So much for Ms. Clinton's finger-wagging and righteous indignation when she is being accused of something that she is, quite clearly, guilty of doing.
You can publish this article on your website as long as you provide a link back to this page.