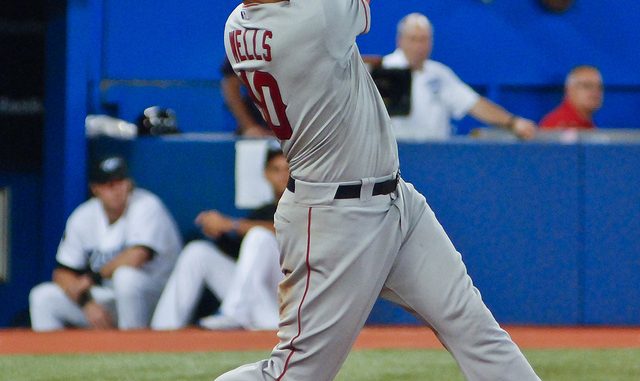 This article was last updated on April 16, 2022
Dustin McGowan Continues His Comback with Impressive Five Innings

Vernon Wells continued his success at Rogers Centre as he once again haunted his old team by driving in four runs powering his Los Angeles Angels of Anaheim to a 7-2 victory.
Wells picked up four RBI's on the night. He drove in two runs with the bases loaded single off reliever Jesse Litsch in the sixth inning and then hit a two run homerun, his 24th of the season, in the eighth inning off Casey Janssen. The former-Jay now has hit three homeruns and seven RBI's in six games at Rogers Centre this year.
Meanwhile, the Toronto Blue Jays offence was shutdown by pitcher Dan Haren who had an impressive eight inning performance matching a career high in wins and improved to 16-9 on the season. Haren's only blemish of the game was giving up a solo homerun to Eric Thames in the seventh inning but only gave up just hits, one run and two walks while striking out four.
The right hander did have a scare on the last out of the eighth inning when Thames hit a comebacker to the mound. Haren was unable to get out of the way and fell to the ground in a heap holding his left wrist. He was quickly attended to but got up under his own power and was escorted off the field.
The Jays sent Dustin McGowan to the mound and he put in a strong outing as he continued along on his comeback trail to the big leagues. He lasted five innings while giving up just five hits and two runs. The most impressive aspect of McGowan's start was his incredible command of the strike zone as he threw 50 of his 79 pitches for strikes without walking a single batter while striking out eight.

"Just pounding the zone, just avoid the walks – those are the things that killed me in the other starts," said
McGowan. "My mindset there was make them put it in play and see what happens from there."
Whenever the right hander was ahead in the count he used one pitch to finish off the Angels batters.
"Slider, I felt like I could throw it anytime for strikes so when I got ahead that's the pitch I would put away people with," said McGowan. "It was good, just keep building off those and I seem to get better each and every time so that's all I can ask for right now."
McGowan actually struck out his old teammate swinging twice before Wells got hot and hit around the Jays relievers.
"Vernon – I like to call him a friend. He was a great leader when he was here and it's a lot different looking at him in that uniform over there. It was good to see him though."
The Angels are still in the playoff race – both in its own division and the wildcard spot. The best shot for LA is to catch the Boston Red Sox for the wildcard as the team picked up a game on Wednesday and now sit just two and a half games back. LA is further behind in the division race and trails the AL West leading Texas Rangers by five games.
McGowan on Track

After the game, Blue Jays Manager John Farrell reiterated that the main goal for McGowan this season was to rehab and stay healthy – everything else is a bonus.
"One thing we stated all along was that this was a rehab year for him," said Farrell. "The main goal was to not only get him back to game activity but to get him through the entire year healthy. With one remaining start everything points to that direction. The fact we got him back to the big leagues here is a tribute to his hard work and his progression."
"He's adapted and made some adjustments over the four outings he's had for us. And once we get through a normal offseason for him – keep in mind he's been throwing the ball since last December – he's going to get a well earned rest and a well earned normal offseason for him. And when we get to spring training, he's a guy who'll compete for our club."
Although McGowan is enjoying pitching in the majors again he is still looking forward to having a rest in the offseason.
"I got one more start and hopefully that one goes well and get a little bit of confidence and get a whole offseason to rest, build some strength back up," said McGowan. "It's a little bittersweet but I've been going at it since November so I'm kind of looking forward to a rest, but on the other hand I enjoyed pitching having fun doing it right now."
Even with a more normal offseason lying ahead for the pitcher, he will still have to spend a lot of time strengthening exercise to ensure he's in better shape for spring training.
"Even this year I don't think I'll rest that much because I'm still going to have to do things to get stronger and continue to do better," added McGowan. "Now I know I can pitch again. The past couple of seasons it was trying to get back to pitching so this will be a little more relaxing for me."
"That's exactly what I'm going to try and do – rest for a little while and then get back after it and work hard and get a lot stronger for next year."

To follow me on twitter click HERE
Download or stream the 500 Level podcast with co-hosts Aman Dhanoa and Ben Trattner as they discuss news, opinions, and views on Toronto sports from the Upper Deck. Leafs, Raptors, Jays, Argos, TFC – nothing is off limits. It's good to be a fan!
Also available on iTunes
Contact Aman Dhanoa at aman@oyetimes.com
You can publish this article on your website as long as you provide a link back to this page.