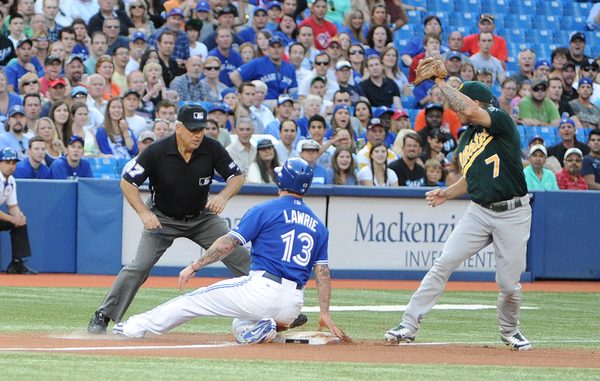 Hottest Team in Baseball Wins Season-high Sixth Straight Game

Both teams came into the game riding win streaks – the Toronto Blue Jays had just swept the Boston Red Sox and the Oakland Athletics – the hottest team in baseball – had just swept the major league leading New York Yankees in four games.
Something had to give.
The Toronto bullpen did just that after a five-run seventh inning by the Oakland opened up a game to that point had been a pitcher's duel between starting pitchers Brett Cecil and Travis Blackley. The seventh inning collapse proved to be the difference as the Athletics opened up the three-game series with a 7-2 win at Rogers Centre on Tuesday night. The win extended the A's win streak to a season-high six games and puts the team with a league-best 29-14 since June 2 and 15-2 in the month of July.
"In two innings tonight the third out obviously was a little elusive – two (runs) in the second and five in the seventh," said Manager John Farrell. "The way Blackley was pitching tonight that was obviously too big of a hole for us to come back in."
"I thought Brett (Cecil) did an outstanding job for the six innings of work."

Cecil (2-3) struck out a season-high eight batters in six innings while giving up only five hits and two runs while walking only two. The left-hander's only blemish in the game was giving up a two-run home run to catcher Derek Norris in the second inning. It was his second straight quality start but he was still credited with the loss as the Jays' offence was shut down by Blackley (3-2) who also fanned eight, a season-high. The A's left-hander lasted seven innings and gave up five hits, one run and a walk.
"Everything was working – changeup, curveball, gutter was working really well tonight and fastball – pretty much any pitch wherever I wanted," said Cecil. "It was really good."
"Things happen. I told John that I thought I had another one in me but with the righties coming up and one of the righties the one that did the damage tonight for me, it's understandable. I had 94 pitches and I didn't see anything wrong with being taken out of the game."
Cecil is prone to giving up the long ball as he has now given up a homerun in all of his seven starts this season and 15 of his last 18 starts overall.
"That's been relatively a high number," said Farrell about Cecil's tendency to give up home runs. "But as long as he doesn't walk people in front of the home runs you can live with the solo home runs."
"But two runs over six innings, Brett did his job."

Both of Toronto's runs came via the long ball with left fielder Travis Snider taking Blackley deep in the second inning with a solo shot and catcher J.P. Arencibia going deep with another solo home run in the ninth inning. Arencibia's also had a double to go along with his 16th dinger this season to tie him with Gregg Zaun for fourth all-time on the Blue Jays catcher's home run list with 40. Third baseman Brett Lawrie went 3-for-4 with two singles and a double.
Snider has hit well since being called up from Las Vegas last week and has hit in all four games, including home runs in back-to-back games and four RBI's.
"It's great to be back (in Toronto) but again the focus is on winning games and not a personal accomplishment so would liked to have got the win tonight," said Snider who played at Rogers Centre for the first time this season.
"(Blackley) was mixing his pitches well on both sides of the plate and got ahead and that's what we knew coming into this series, he was kind of trying to get ahead early and he did a good job tonight. You got to tip your cap."
Bullpen Letdown

Oakland opened the scoring in the second inning by getting to Cecil with two out. Brandon Inge singled to right-centre field and then next batter Norris went deep to left field on the first pitch he faced. Toronto got a run back in the bottom half of the third inning on the lead-off solo home run by Snider.
With Blackley and Cecil pitching so well the score held until the seventh inning. Despite striking out the side Cecil threw 20 pitches in the sixth for a total of 94 pitches. With right-handed batters coming up and Cecil having already given up a home run to a righty, Farrell decided to take his starter out of the game.
In came Chad Beck from the bullpen, but after retiring the first two batters he faced the right hander gave up two extra base hits. First short stop Brandon Hicks hit a pitch sharply and the ball bounced just inside the third base line and into left field. Then the next batter, second baseman Jemile Weeks, hit a long fly ball to centre field bouncing off the wall for a triple that scored Hicks.
Beck was then replaced by newly acquired left-handed pitcher J.A. Happ, who was part of a 10-player deal with the Houston Astros. But he didn't fare any better and gave up a double to Coco Crisp in what was almost an identical to Hick's hit just inside the third base line. That scored Weeks and the next batters, Jonny Gomes and Josh Reddick, were walked to load the bases.
Left fielder Yoenis Cespedes then battled with Happ before hitting a line drive up the middle on the sixth pitch of the at-bat for a bases-clearing single to increase Oakland's lead to 7-1. First baseman Chris Carter then popped out to shallow right field to mercifully end the inning as the bullpen let another quality start go to waste.
The offence struggled against Blackley and will need to bounce back if the Jays hope to stop the hottest team in the majors.
"Every single day, we as an offence, have to come ready to play," said Snider. "We know we're going to have days like this but as long as we can continue to battle we got some good players in this clubhouse and the belief is there."
The Blue Jays will continue its six-game home stand and look to get back into the win column as left-handed pitcher Ricky Romero (8-6, 5.22) takes to the mound against righty A.J. Griffin (2-0, 2.70) on Wednesday night at 7:07 p.m. To close out the series Aaron Laffey (2-1, 2.77) will take on fellow left-hander Tommy Milone (9-6, 3.34) on Thursday afternoon starting at 12:37 p.m. at Rogers Centre.

To follow me on twitter click HERE
Photos courtesy of Karan Vyas