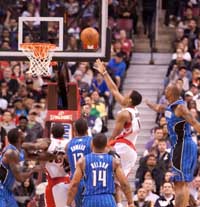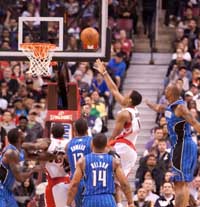 Raptors guard DeMar DeRozan slashes through the Magic
defence and lays the ball
off the backboard
DeMar DeRozan and Jerryd Bayless Combine for 47 Points to Lead the Raptors Attack
On Sunday night, a sold-out Air Canada Centre bore witness to one of the best performances by the Toronto Raptors this season.
Without two of their starters for the second straight game, the Raptors once again trotted out their second youngest starting lineup in team history to take on Dwight Howard and the Orlando Magic.
Undoubtedly, a daunting task was at hand for the young Dinos, but after testing the Eastern Conference leading Chicago Bulls the night before, the Raptors overwhelmed the Magic in a tight but entertaining 102-98 victory.
"I think we've played 96 minutes of very good basketball the last two nights," said Raptors coach Jay Triano. "Our guys are playing hard, they are playing aggressive and they are sharing the basketball. I mean to have 24 assists tonight was pretty good for us."
Triano mentioned the assists where Toronto had 24 compared to only 15 for Orlando, but the Raptors were simply better in almost every statistical category. Toronto outscored Orlando 21-11 in second chance points, 14-3 on fast break points and 36-32 for points in the paint and had a higher shooting, three-point and free throw percentages as well. The only stats where the Magic fared better were in steals and turnovers but the difference was negligible.
Plain and simple, Toronto (21-55) outhustled and outworked Orlando (48-29) to win the season series (2-1) and snap their six game losing streak.
"You get outrebounded by 18, give up 21 second-chance points and fast-break are 14-3, they deserved to win," said Magic coach Stan Van Gundy.

Dwight Howard can only watch
as DeRozan finishes an
alley-oop from Jerryd Bayless
As was the case on Saturday night, Jerryd Bayless and DeMar DeRozan led the offensive charge scoring 23 and 24 points respectively.
"Everybody is playing well right now," said Bayless who also added eight assists. "We're playing well, moving the ball and everybody is touching it. It's a fun way to play and it's a good way to play if we want to be successful."
For the second straight night, Jose Calderon and Andrea Bargnani were out of the lineup nursing injuries. Bargnani has now missed 3 of the last 4 games due to a sore right ankle while Calderon was out because of a sore left hamstring.
Reggie Evans continued to be a force on the boards, finishing with a game-high 17 rebounds to help the Raptors hold a 48-30 advantage over the Magic. James Johnson, Sonny Weems and Leandro Barbosa also chipped in with double-digit contributions.

Magic star centre Dwight
Howard drives the ball
to the basket
Dwight Howard scored a game-high 31 points to pace the Magic and pulled down nine rebounds to finish just short of a double-double. Jameer Nelson added 21 points and seven assists while the other three starters hit double figures as well, including former Raptor Hedo Turkoglu who was booed every time he touched the ball.
The Magic were also shorthanded and dressed only nine players for the game. Gilbert Arenas had an illness and did not travel with the team, while J.J. Redick has been sidelined for almost a month with an abdominal strain. Chris Duhon missed his third straight game with a sore right thumb.
Despite the thin lineup Van Gundy wasn't about to offer any excuses.
"I can understand our guys being tired at the end, but we weren't ready to play in the first quarter. They wanted to win and we didn't care and so they won," added Van Gundy.
"They had Calderon and Bargnani missing. You don't attribute it to anything, the guys who play have to play."
Howard downplayed his coach's comments.
"That's just Stan being Stan," said Howard. "I just have to continue to motivating the team to play and not worry about it. Sometimes he's very passionate and he says things that we might no like, but I just have to do whatever I can to motivate my team and get ready for the playoffs.

The Kids Are Alright

Raptors forward Sonny Weems hooks a shot over former Raptor Hedo Turkoglu
The Magic led 79-73 heading into the fourth quarter and it looked to be another battle down the stretch for the Raptors. With Howard on the bench, Toronto took advantage going on a 14-5 run and were suddenly ahead 87-86 with 7:38 remaining.
With the lack of depth the team could barely get Howard out of the game without the team suffering on the floor.
"It's a little ridiculous that we can't even let Dwight (Howard) get a drink of water but that the way it is," added Van Gundy. "When he leaves, we have no defence and today we had very little offence. It's crazy, we should be able to take him out and get a drink of water."
Despite Howard re-entering the game, the Raptors were able to limit his impact as he made only one basket the rest of the way. With the Raptors ahead 95-93, Howard could have given his team the lead but missed three of four foul shots on consecutive possessions. Howard finished an awful 9/15 from the stripe.
One of the biggest concerns this season for the Raptors has been their play ability to protect leads in the final minutes. But on Sunday, Toronto came up with timely defensive stops and were able to grab rebounds for second and sometimes third chance points.

Bayless gets fouled hard after
a layup late in the fourth quarter
After a Barbosa missed three with less than a minute left, Bayless managed to knock down the rebound. Bayless then went up for a drive but was fouled hard and hit the floor. Fans rose to their feet as Bayless knocked down both free throws to put Raps up 99-95 with 24.7 seconds left.
On the next possession by Orlando, Nelson missed a three-pointer but Howard was able to grab the rebound. While he was looking around for an open teammate, DeRozan slapped the ball out of his hands creating a turnover. The Magic were forced to foul but the Raptors made one of two free throws to put the game out of reach and held on for the win.
Toronto will now head back on the road for a game in New York against the Knicks on Tuesday before returning home to host the Cleveland Cavaliers on Wednesday night.
To follow me on twitter click
HERE
Download or stream
the 500 Level podcast with co-hosts Aman Dhanoa and Ben Trattner as they discuss news, opinions, and views on Toronto sports from the Upper Deck. Leafs, Raptors, Jays, Argos, TFC – nothing is off limits. It's good to be a fan!
Also available on iTunes
Photos below courtesy of JP Dhanoa
Contact Aman Dhanoa at aman@oyetimes.com

Article viewed at: Oye! Times at www.oyetimes.com