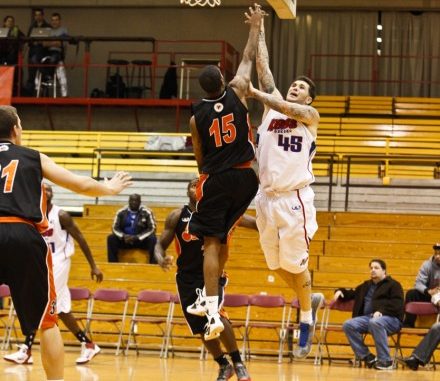 The Oshawa Power gained sweet revenge over the Quebec Kebs with a 95-92 win at Laval University, avenging a loss to the Kebs just 6 days prior. Coming off a convincing victory in their home opener at the GM Centre on Thursday, the Oshawa Power looked to carry over their momentum in a back and forth game with the Quebec Kebs Saturday night.
Small forward Brandon Robinson started out the gate red hot, knocking down shot after shot, while leading all scorers at the half with 18 points. He finished with a game-high 25 points, draining 4 threes, while grabbing 5 rebounds.
"I feel that we did a great job and we stayed together on the road. I am glad to be a part of a group that will go down in history as the first Power team to win on the road," said Robinson.
Through the first half of action the Power and Kebs traded the lead, going neck and neck. Only one point separated the teams at the half.
The second half was as action packed as the first. Both teams fought valiantly to secure a victory, but it was a barrage of three point field goals in the final minute of the game that sealed the win for the Power.
Power forward Omari Johnson and first overall draft pick Morgan Lewis connected on back to back threes to break it open. Johnson came off the bench and finished with 16 points and 6 rebounds, and Lewis added 12 points of his own. Royce Parran filled the stat sheet once again for the Kebs notching 18 points, 8 rebounds, and 5 assists in the losing effort. Quebec will now have a couple days to recover before
they host Ontario's other team, the 2-0 London Lighting.
The Power will now turn their attention to their Monday November 14 tilt with the Saint John Mill Rats. The game will be the first encounter between the two teams and will tip-off at 7:30 p.m.