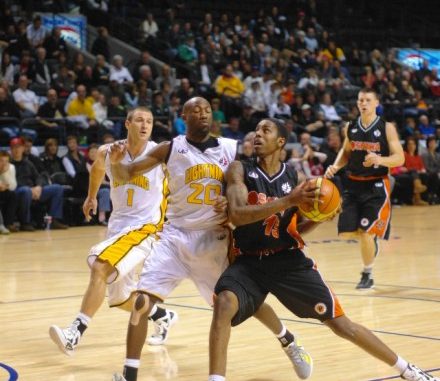 The Oshawa Power lost 105-93 to the London Lightning in the second game of a home-and-home series at the John Labatt Centre.
The Power started off slowly and never seemed to recover after an injury to Morgan Lewis. The Power now fall to 3-4 on the year and the Lighting improve to 6-2 on the young season.
Foul trouble plagued the Power right from the get-go as Lewis, Brandon Robinson and Kevin Francis amassed two each in the first quarter, which led to a18-11 deficit after one.
Despite being in bonus with 9:38 left in the second quarter, the Power could not get anycloser than 5 points. Rodney Buford"s three followed by two Taylor King put backs made it 39-27 for the Lightning.
The bad news continued for the Power as number one overall draft pick Morgan Lewis went down hard after battling for an offensive rebound, taking an elbow to the head in the process.
Despite seeing their teammate go down, the Power tried to battle back in the third frame. Down 60-35 at one point, a Brandon Robinson jumper and buzzer-beating layup cut the Lighting"s lead to 78-66 after three. Robinson finished with a team-high 21 points and 9 rebounds.
"They came with a lot of intensity and we didn"t match their intensity tonight," said Robinson. "We have to show that we won"t back down. We have to be ready to play every night. Nothing is given in this league."
The fourth quarter saw the Lightning continue to pour it on as DeAnthony Bowden took over draining three point field goals to cap off a stellar 29 point 11 assist double-double for the Lightning.Injury report
Morgan Lewis suffered a laceration over his right eye, damage to two teeth and concussion and was sent to a local hospital for treatment. More information will be provided once a full injury report has been received.
Power Glance
Record: 3-4
Next Game: Friday, November 25 at the General Motors Centre, where they will tip off against the Summerside Storm at 7:30 p.m