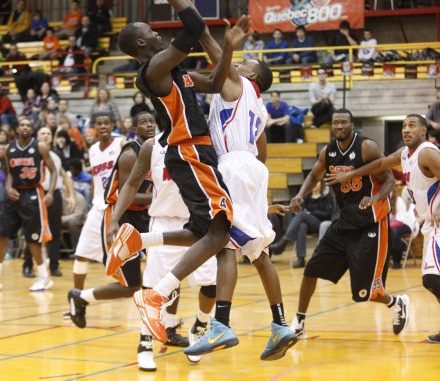 The Oshawa Power fall in their comeback attempt on the road to the Quebec Kebs 96-82.
Durham Region"s team weathered the early storm as the Kebs were cooking on all cylinders in the first half. A late push by the Power kept them within striking distance as they finished the first half down by only 12 points.
A strong showing in the third quarter by the Power brought them back into the game reducing the lead to as little as one point, but the uphill climb was just too much for the visitors on Friday night.
Omari Johnson put the team on his back offensively as he finished the game with 26 points. Canadian Tut Ruach had a near triple-double as he netted 13 points, 11 rebounds and seven assists.
"It"s a game of runs. We made a run in the third to bring it to a one point game, but they answered right back," said Ruach after the game. "We were unable to get over that hump."
Cedric Moodie had 21 points in his Kebs debut, and Ralphy Holmes continued his strong play against the Power leading the Kebs with 24 points.
The Power will head to Halifax to take on the Rainmen on Sunday December 18 at 1:00 p.m.
Power Glance
Record: 6-9