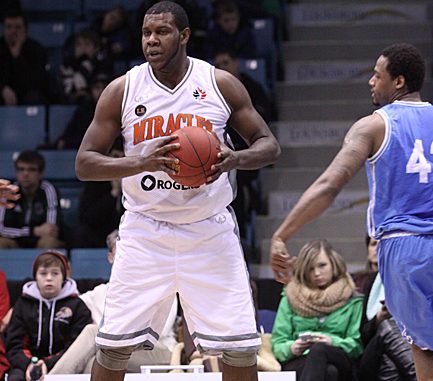 The Moncton Miracles, presented by Rogers, lost to the Halifax Rainmen with a final score of 103-108 The Miracles now sit with a 15-19 record.
The Miracles would start the first quarter slow with the Rainmen taking control of the game at both ends of the floor. Halifax would take an early 3-10 lead and continue to push it for the first 12 minutes of play. The Rainmen would have as much as a 13-point spread between themselves and the Miracles before finishing the first with a 18-29 advantage.
The first half of the second quarter would continue as much as the same with Halifax leading by as many as 17-points with 4 minutes remaining in the first half. Moncton would aim to close the gap by trying to draw the foul taking it to the net and sending them to the line. They would get to the charity strip 15 times in the first half compared to Halifax's 3 single shots. Moncton would only shoot 33.33% from the field but still manage to only trail 39-46 at the halfway point.
With a little more than 9-minutes to play Miracles Devin Sweetney would hit a 3 to tie the game up at 78-78, which would be the first time all game. The Miracles would lead for a brief second when Sylvania Watkins would make a foul shot to put his team up 79-78. Halifax's Quinnel Brown would answer back with a basket the next trip down the floor to give them control of the scoreboard for the remainder of the game.
Devin Sweetney led the way for the Miracles with 31 points and 11 rebounds. Herman Favors followed with 23 points and 10 assists and Boubacar Coly with 15 points.
Melvin Goins was the force for the Rainmen with 22 points and 10 rebounds. Quinnel Brown was next with 21 points and Cedric Moodie with 16 points.
Miracles Devin Sweetney was handed a technical foul in the third quarter.
Upcoming Community Events:
The Miracles play their next game at home on Thursday, February 7th against the London Lightning. Tip-off is 7pm at the Moncton Coliseum. It is the Miracles Cure on the Court Game so come out and show your support for the cause.