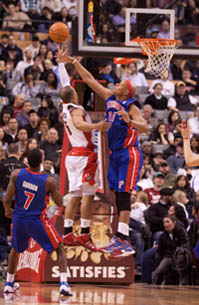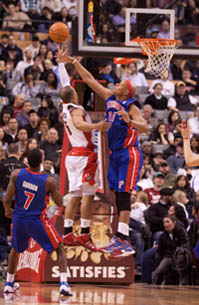 Raptors guard Jerryd Bayless attempts to float a shot past
former-Raptor
Charlie Villanueva
Pistons guard Richard Hamilton Benched Once Again


The Toronto Raptors' sloppy first half defence was too much too overcome as they dropped 101-95 decision to the visiting Detroit Pistons at the Air Canada Centre on Friday night.
The Pistons shot well from the floor in the first two quarters pouring in 61 first half points while routinely exploiting man-to-man mismatches. The Raptors were not able to adjust until the second half – but the damage was already done.
"They just went one-on-one," said Raptors coach Jay Triano when asked about his team's first half defence.
"They took turns posting different guys up. They went on-one and scored whoever the match up was. It's not a scheme, it's not anything, it's just man-on-man and they exploited the mismatches. Guys should be embarrassed when a team runs a play six times in a row right at you."
The Pistons' bench scoring, which incidentally is the best in the NBA, was another big factor in the loss as they outscored the Raptors reserves 35-18. Toronto (13-26), led by guard Leandro Barbosa, have been near the top of the NBA in bench scoring this season as well. But with 3.2 seconds remaining in the first half, Barbosa strained his right hamstring and had to be carried off the floor. He is currently fourth in the NBA in reserve scoring, averaging 13.8 points per game.

DeMar DeRozan flys through the air
for an uncontested jam
Although Toronto was able to correct their defensive play, they certainly missed Barbosa's pure scoring ability in the second half.
"I think when you look at the bench lineup that tells a lot. 35-18 is when Leandro (Barbosa) gets hurt and goes out. That's the majority of our bench points right there," said Triano.
"Obviously we missed that. Some guys struggled offensively tonight. DeMar (DeRozan) is usually a little bit better and defensively we needed to be a bit better as well. Points were an issue but I thought the first half of the game was the difference when we fell back and didn't stop anybody."

Richard Hamilton Benched Again
Veteran guard Richard Hamilton dressed but did not play for the Pistons for a second straight game. His name has been mentioned in the proposed three-way trade involving Denver Nuggets star Carmelo Anthony. Some suggest the benching has to do with the impending trade and ensuring Hamilton doesn't get hurt.
Detroit (13-26) were led by former-Raptor Tracy McGrady who finished with a team 22 points and five assists. McGrady had great control of the basketball and had very little trouble finding an open teammate as he picked apart the Raptors defence.
"He did a great job," said Pistons coach John Kuester. "I was very impressed with his pace of the game, his control, making big plays when we needed some big plays down the stretch. That was very important."
McGrady, who signed with Detroit as a free agent this past offseason, was booed as usual by Raptor fans.
"I am focused every game," said McGrady. "But when you have an arena that boos you, I think that you put a little more focus into it."

Tracy McGrady of the Pistons
drives past DeRozan
McGrady is now handling the ball more which has helped him become more comfortable on the court with his new team.
"I am a rhythm player so having the ball helps me on the basketball court to get my rhythm," said McGrady.
"I feel that I am a great decision maker and I feel the ball should be in my hands making plays for my teammates. That is what I thrive off of, making my teammates better. There is no greater feeling than that. Having the ball has given confidence to me and my teammates."
Another former-Raptor, forward Charlie Villanueva, had a huge second quarter as he scored 14 points, helping his team build a 14 point lead. Villanueva finished with 16 points but did not score a point in the second half.
Andrea Bargnani once again led his team in scoring and finished with a game-high 31 points in 35 minutes while grabbing nine rebounds as well. It was Bargnani's fifth 30-point game of the season.
The two teams split a pair of games in December and Toronto now trails the season series 2-1. The Raptors were surprisingly able to overcome a 25 point third quarter deficit to win the first meeting 120-116 in Detroit. It was the biggest comeback in franchise history.
On Friday night, it seemed at times in the second half that Toronto could have another comeback up their sleeves. However, the Raptors could never get that critical stop to fully turn the momentum in their favour – the Pistons simply had an answer for every Raptor run.
The Raptors ended their mini three-game homestand with a 1-2 record. They will now head out on a season-high five game road trip beginning tonight in Washington. After playing the Wizards, Toronto will be in tough as they also make stops at New Orleans, San Antonio, Orlando and Miami.
To follow me on twitter click
HERE