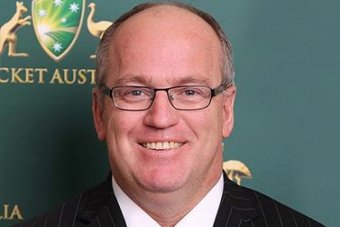 Earl Eddings has been named the permanent chairman of Cricket Australia following the resignation of David Peever.
Eddings, who has been a director on the board for 10 years, took temporary charge four weeks ago.
Peever stepped down after a review into Australian cricket in the wake of the ball-tampering scandal that engulfed the Test team earlier this year.
A report said Cricket Australia was "arrogant and controlling" and partly to blame for the incident in March.
Captain Steve Smith, vice-captain David Warner and batsman Cameron Bancroft were banned after sandpaper was used to damage the ball during Australia's third Test against South Africa.
Cricket Australia 'partly to blame' for ball-tampering
Peever had been re-elected for a second three-year term in October and had suggested he would be best to oversee changes to governance and culture in the sport.
But he bowed to increasing pressure to resign a little more than a week later.
CA director Jacquie Hey said it had been a "challenging" year for the organisation.
"Our aim is to ensure management is empowered to rebuild trust and strengthen the game," she added in a statement following Eddings' appointment.
"Earl's involvement over the past decade provides continuity in a time of change and enables the board to maintain strong relations with the International Cricket Council, other member countries and our valued partners."
The Longstaff report, which was not released until after Peever's second term was secured, found the board partially culpable for the events in Cape Town which led to bans for Smith, Warner and Bancroft.
Captain at the time Smith and Warner, his vice-captain, are seven months into one-year bans for orchestrating the plan, while Bancroft, who carried out the cheating on the field in South Africa, will be eligible to return in December.
The incident hastened the departures of coach Darren Lehmann and CA chief executive James Sutherland.