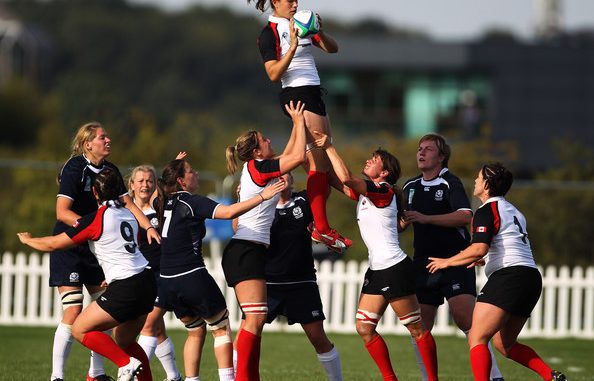 Canada scored four tries and held off a late charge to defeat Scotland 28-25 in women's rugby play Tuesday.
The victory was the third in four tour matches for coach Sandro Fiorino's Canadian squad.
Canada ranked fourth in the world, lost the tour opener 27-19 to No. 2 England. A Canada 'A' side then beat England 'A' 35-14 before the full Canadian team dispatched No. 8 Wales 38-21.
It was an entertaining back-and-forth match with 11th-ranked Scotland responding every time Canada pulled ahead.
Scotland was inches from taking the lead in the final 10 minutes after a fine run by Chloe Rollie but the attack ended in a knock-on. Scottish captain Lisa Thomson then had a chance to tie the score in the dying minutes but her penalty kick into the wind was off-target.
Olivia DeMerchant, Tausani Levale, Tyson Beukeboom and Janna Slevinsky scored tries for Canada at Scotstoun Stadium. Brianna Miller kicked two conversions and Irene Patrinos booted two more.
Thomson, Lisa Martin, Jade Konkel and Emma Wassell scored tries for Scotland. Helen Nelson kicked a penalty and Martin added a conversion for the home side.
Scotland opened the scoring with an early penalty but Canada struck back quickly with converted tries by DeMerchant and Levale for a 14-3 lead.
Scotland answered with two first-half tries, with Konkel crashing over from a driving maul following a lineout on the stroke of halftime to give the Scots a 15-14 lead at the break.
Canada pulled ahead early in the second half when Beukeboom drove over from a goal-line ruck. The conversion gave Canada a 21-15 lead.
An unconverted Scottish try from a driving lineout maul reduced the Canadian lead to 21-20 in the 57th minute. The Canadians answered quickly with Slevinsky scoring from a ruck at the goal-line.
Wassel's try cut the Canadian lead to 28-25.