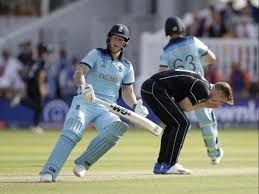 England was wrongly awarded an extra run in their Cricket World Cup final victory over New Zealand, according to a former international umpire, on their way to a dramatic super-over win at Lord's.
In the final over of regular play, Ben Stokes inadvertently deflected the ball off his bat to the boundary rope as he dived to reach the crease, turning what would have been two runs into six and playing a crucial role in equalling New Zealand's total to force a super-over.
But the well-renowned former international umpire Simon Taufel says the on-field umpires made a "clear mistake" in awarding England six runs, rather than the correct figure of five, as the batsmen had not yet crossed for the second run when the ball was thrown. The error also meant that England's best batsman, Stokes, retained the strike.
"It's a clear mistake … it's an error of judgment," Taufel said. However, the Australian did defend his former colleagues, Kumar Dharmasena and Marais Erasmus, describing them as the "best of the best".
"The difficulty umpires have here is they have to watch batsmen completing runs, then change focus and watch for the ball being picked up, and watch for the release (of the throw)," he said. "You also have to watch where the batsmen are at that exact moment."
'Allah was with us,' says Eoin Morgan after England win World Cup
Taufel added: "In the heat of what was going on, they thought there was a good chance the batsmen had crossed at the instant of the throw."
New Zealand captain Kane Williamson was philosophical about the incident, saying it was "part of the game".
Player of the match Stokes, who was born in Christchurch, New Zealand, said: "I said to Kane I'll be apologizing for that for the rest of my life!"