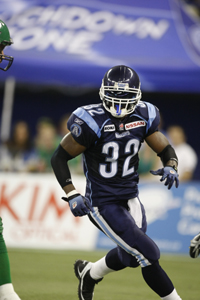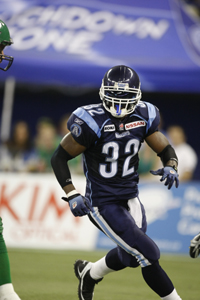 (Andre Durie above)
On a rainy Wednesday afternoon, the Toronto Argonauts held a light indoor practice at the Hershey SportZone in Mississauga preparing for their Friday night game in Edmonton.
Perhaps because it was indoors and on turf, but the practice for the most part was a lighthearted one and only consisted of a few simple drills. Head Coach Bart Andrus kept the team in line on a couple of occasions but the entire team was in good spirits and upbeat despite already being eliminated from the playoffs.
Last Friday, the Argos continued their rivalry with the Hamilton Tiger Cats and came out flat. The boatmen dug themselves a big hole and were down 20-0 at halftime. Argos played a much better second half but in the end suffered their sixth straight defeat, losing 26-17.
Needless to say the season has not gone well for the Argos but the players still believe in themselves and are aware of what they need to accomplish to win games.
"We're not a bad team. We just need to play a full 60 minutes – from the beginning until the end. If we do that we're a good team," says slot back Andre Durie.
The Argos have struggled to put a complete game together this season and are hoping to get it right this Friday. The team will have their hands full playing a desperate Edmonton Eskimos team in the packed cold confines of Commonwealth Stadium – which is never an easy feat in itself. The Eskimos are still looking to earn a playoff spot and are coming off a disappointing 30-7 loss last week to the Calgary Stampeders.
Playing for Pride
The Argos want to finish the season strong by winning their two remaining games and end the season on a positive note.

(Stephen Reaves above)
"We're not doing as well as we should have or we're capable of. We're playing for pride, really," says backup quarterback Stephen Reaves.
"We're out of the playoffs obviously and you can say we're not playing for anything but we, still as professional athletes, have that competitive drive. We still want to win games and we still want to perform well."
Contact Aman Dhanoa at aman@oyetimes.com
(Both photos courtesy of Toronto Argonauts Football Club)