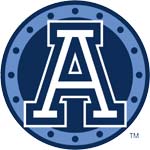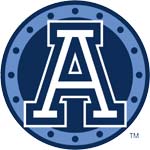 The Toronto Argonauts Football Club acquired QB Dalton Bell from the Saskatchewan Roughriders in exchange for a fifth round draft pick in the 2010 CFL Canadian Draft. Toronto originally acquired the draft pick from Saskatchewan in the deal that sent import OT Cliff Washburn to the 'Riders.
Bell is a strong-armed quarterback who shattered passing records while playing in the Lone Star Conference for West Texas A&M. While there, he threw for career totals of 7,841 yards, 63 touchdowns and completed 699 of 1044 pass attempts (66.9%). Bell spent the past two seasons on the Saskatchewan Roughriders' practice roster. He's also had stops with the Carolina Panthers, Green Bay Packers and Seattle Seahawks.
Remarked Adam Rita, GM/VP, Football Operations, Toronto Argonauts, "We feel very fortunate to obtain the playing rights of Dalton Bell. He's a young quarterback with a bright future. He is a good candidate to come to Toronto and compete for a quarterback spot."
Dalton Bell
Quarterback
6'3", 210 lbs.
West Texas A&M
Born: March 9, 1983
Canyon, Texas
1st Year Argos / 1st Year CFL
Import
Acquired: Traded to Toronto from Saskatchewan in exchange for a fifth round pick in the 2010 CFL Canadian Draft.
2009: Spent entire season on Saskatchewan's practice roster.
2008: Signed with the Seattle Seahawks (NFL) as a free agent and attended training camp…Added to the club's practice roster…Released and signed a practice roster agreement with the Saskatchewan Roughriders in October…Remained on Riders' practice squad for remainder of 2008 season.
2007: Attended portion of training camp with the Carolina Panthers (NFL) and released…Signed as a free agent with the Green Bay Packers (NFL) and assigned to the club's practice roster.
College: Dressed in 40 games with 21 starts (2002-'06) at West Texas A&M…Threw for career totals of 7,841 yards, 63 touchdowns and completed 66.9% (699) of his 1044 pass attempts…2006 As a senior, completed 386 of 583 passes for 3,998 yards and 32 touchdowns…2005 Promoted to starting QB and threw for 3,799 yards and 30 touchdowns as a junior…Named First-Team All-Southwest Region and Second-Team All-Lone Star Conference…Honoured as a finalist for the Harlon Hill Award Finalist…2004 Dressed in 10 games as a backup QB completing 1 of 5 passes…2003 Played in six games and completed 1 of 2 passes for 36 yards and scored a touchdown…2002 Redshirt freshman.
Personal: Dalton is married to his high school sweetheart Ibbie and the couple has a 3 year old son named Boston. Both Dalton and Ibbie attended Canyon High School and they still live in their hometown of Canyon, Texas. There, Dalton was a two-year letter winner as a track athlete and earned honourable mention All-District honours as a football player. He was a marketing major in college.