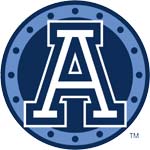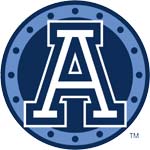 For the second month in a row, a pair of Argonauts have been named CFL Players of the Month. Explosive receiver/kick returner Chad Owens and powerful defensive end Ronald Flemons have earned CFL Special Teams Player of the Month and CFL Defensive Player of the Month, respectively, for September. Argos LB Kevin Eiben (Canadian) and RB Cory Boyd (Offence) were named players of the month in August.
Chad Owens is arguably the most exciting player in the CFL this season. He has been dynamite in 2010 having been named a CFL player of the week three times already (weeks 2, 7 & 12). In September, the Fly'n Hawaiian accounted for 777 combined yards (157 yards receiving, 11 rushing yards, 111 missed field goal return yards, 241 punt return yards and 257 kickoff return yards) and scored an 80-yard game-changing punt return touchdown against the Winnipeg Blue Bombers on September 19.
Owens, currently at 2,098 combined yards, has led the CFL in that category for most of the season. He's on pace to finish with more than 3,200 combined yards which would be among the best statistical seasons in CFL history and the second-highest total in Argos history. He is currently second in the CFL in punt return yards (626) and kickoff return yards (757). This is Owens' first CFL Player of the Month award of his career.
His teammates knew he was good but it was only a matter of time before Ronald Flemons was recognized as the best. His month was off the charts as he recorded 22 defensive tackles, 4 quarterback sacks, 2 fumble recoveries for 39 yards, 2 pass knock downs and one tackle for a loss. This is Flemons' first-ever Player of the Month award and he is just the second Argonauts player ever (Michael Fletcher, July 2005) to earn CFL Defensive Player of the Month.
Overall, Flemons is second on the Argos, third in the CFL, in sacks (5), first among Argos defensive linemen in tackles (40) and first in fumble recoveries (2).
Fans can see Owens, Flemons and their teammates in action at Rogers Centre this Saturday, October 2 at 3:00 p.m. where they will take on the Saskatchewan Roughriders.