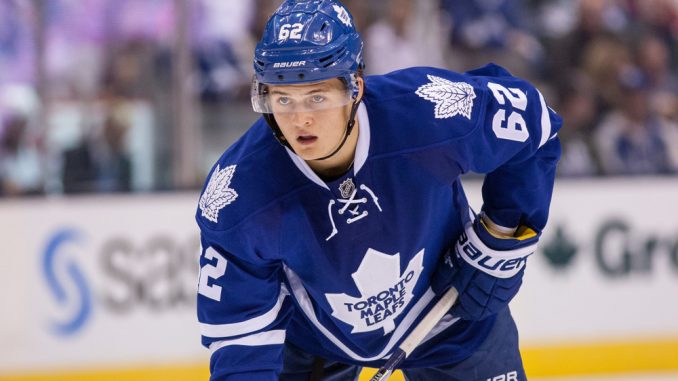 This article was last updated on April 16, 2022
Toronto Maple Leafs At New York Islanders Sunday, October 30, 2016
| | | | | | |
| --- | --- | --- | --- | --- | --- |
| | 1 | 2 | 3 | OT | FINAL |
| TORONTO | 0 | 0 | 1 | 0 | 1 |
| NEW YORK | 2 | 0 | 3 | 0 | 5 |
GAME SUMMARY | EVENT SUMMARY | FACEOFF SUMMARY

ON THE SCORESHEET
Jake Gardiner registered his first goal of the season at 0:50 of the third period. He leads Maple Leafs defencemen in points (6).
William Nylander recorded an assist on Gardiner's third period goal. Nylander leads the Maple Leafs in power play points (3-4-7) and has points in 7 of his last 9 games.
James van Riemsdyk picked up his second assist of the season in the third period. He has points in 4 of his last 5 games.
SHOTS FIRED
The Maple Leafs were outshot by New York in tonight's game by a 35-34 margin.
Toronto outshot the Islanders by a 17-12 margin in the second period. New York outshot the Maple Leafs 13-10 in the first period and 10-7 in the third period.
Zach Hyman, Auston Matthews and James van Riemsdyk tied for a team-high with 4 shots on goal.
Mitch Marner led the Maple Leafs in shot-attempts (8).
ON THE ROAD AGAIN
The Maple Leafs are now 0-3-3 on the road this season.
Toronto is 29-36-3-5 all-time in 73 road games against the Islanders.
The Maple Leafs conclude their road trip with a 0-2-0 record.

OF NOTE…
The Maple Leafs have now scored a power play goal in six of their last seven games.
Toronto had an assist registered by William Nylander in tonight's game. Maple Leafs' rookies have now combined for 34 points (12 goals, 22 assists) in nine games this season.
At 17:10 of the second period in tonight's game, the Situation Room initiated a video review to further examine a play at the Toronto net. Review confirmed that the original shot did not cross the Toronto goal line before the referee blew his whistle to stop play. No goal New York.
Jake Gardiner had a team-high 3 blocked shots.
Nazem Kadri, Matt Martin and Roman Polak tied for the Maple Leafs lead in hits (4).
Martin Marincin led the Maple Leafs in TOI (22:36) and shorthanded TOI (3:12).
Mitch Marner had a game-high 4 takeaways.
William Nylander won 8 of his 10 faceoffs (80%) tonight.
Morgan Rielly led the Maple Leafs in shifts (29).
Nikita Zaitsev led Toronto in PP TOI (2:36).
UPCOMING GAMES:
Tuesday, Nov. 1 vs. Edmonton Oilers, 7:30 p.m. (TSN 4, FAN 590)
Thursday, Nov. 3 at Buffalo Sabres, 7:00 p.m. (Sportsnet Ontario, TSN 1050)
Saturday, Nov. 5 vs. Vancouver Canucks, 7:00 p.m. (HNIC, FAN 590)
Tuesday, Nov. 8 vs. Los Angeles Kings, 7:30 p.m. (TSN 4, TSN 1050)
Friday, Nov. 11 vs. Philadelphia Flyers, 7:00 p.m. (TSN 4, FAN 590)
POSTGAME QUOTES
MIKE BABCOCK POSTGAME: OCTOBER 30, 2016
On the team trying to come back from an early deficit:
I thought we got ourselves in a real good spot. I thought we did a lot of good things through two, we got the game to 2-1. We were in a really good position. Then they got the third one and it seemed to break us. D-zone faceoffs and sort-outs cost us two goals tonight – it makes no sense, missed assignments. Last night we had all 20 guys on board and working hard and competitive. Tonight I didn't think we had 20 guys. We weren't quite as good here tonight but we still set ourselves up for a real good spot even though I think they scored on the second shift of the game, if I'm not mistaken, and had the 2-0 lead. I thought we had a good second, set ourselves up pretty good, got the power play goal and were in a good spot.
On the play of the van Riemsdyk-Bozak-Marner line:
They needed to be a lot better. Bozak and [van Riemsdyk] have to lead.
On if he sees any reason why the team has scored less in recent games:
No, I don't think – you've got to finish your opportunities. We had lots of opportunities last night. I think when you look at it we'll have lots directed their way but we didn't finish at all tonight so we've got to stay the course. It's not about the goal-scoring, it's about the goals you give up. Everyone is worried about the goal-scoring, that's not our issue on this team. It's what we give up.
TYLER BOZAK POSTGAME: OCTOBER 30, 2016
On if fatigue in a back-to-back was a factor tonight:
No it's pretty early in the season, there's no excuses like that yet. We just didn't — especially our line, we weren't good enough. Jhonas made some really good saves and we didn't do much for him.
On New York's early first goal:
It's just a deflection off a stick. Hockey is made of bounces; it sucks when they don't go your way but that's all part of the game. You have to suck it up and work hard and get back out there. We just didn't get the job done tonight.
On scoring being down for the team in recent games:
I think it has around the league quite a bit. I think everyone came out scoring a lot of goals. We played Price last night who played awesome, Greiss had a really good game tonight. We ran into a couple of good goalies but we also didn't generate enough. We weren't hard enough on the puck and didn't create enough.
On the ice quality:
We're both playing on the same ice so there's nothing wrong with it there. Everyone has the same advantage with that.
JHONAS ENROTH POSTGAME: OCTOBER 30, 2016
On how he felt in tonight's game:
I felt alright actually, I felt pretty good during the game. A couple of tough bounces there, especially in the third. The third goal was on me; I shouldn't go out when it's on the glass like that. A tough bounce but it happens.
On how he should have played the third goal:
Just leave it, I should have stayed in the net.
On the ice quality:
For me the ice was alright, I didn't notice anything special.
On stopping John Tavares on a breakaway:
It was a nice save. Obviously he's a good player and I saw it coming pretty early that he was going to come out from the box there. I managed to stay with him and make a pretty good save there.
MATT MARTIN POSTGAME: OCTOBER 30, 2016
On the reception in his return to face the Islanders:
Thanks to the organization and to the fans, it means a lot, obviously. It wasn't the result we wanted, but it's still a special night for me and a lot of familiar faces and friends in this organization. It was a good one.
On the video tribute:
Thankfully I missed the first half of that. I was going on the ice so we were talking about our faceoff play and what we were going to do. It's pretty emotional, it gives you chills. I spent a lot of time here and got involved in the community here. Like I said, a lot of friends and people I consider family here so it was a special moment.
JAMES van RIEMSDYK POSTGAME: OCTOBER 30, 2016
On the play of his line tonight:
I think our line had to be a little bit better than we were. Obviously there were some tough bounces but we have to contribute a little bit more tonight and it was just one of those games.
On the Islanders capitalizing on mistakes in tonight's game:
They capitalized on their chances and definitely had some good looks. Their goalie played pretty well. We'll have to have a good bounce-back game next time we're out there.
On the ice quality:
It's the same for both teams so there's no excuse. You've got to maybe make the safer play when you know the ice is not going to be as predictable. We've played long enough in situations like that to know what to do.
You can publish this article on your website as long as you provide a link back to this page.