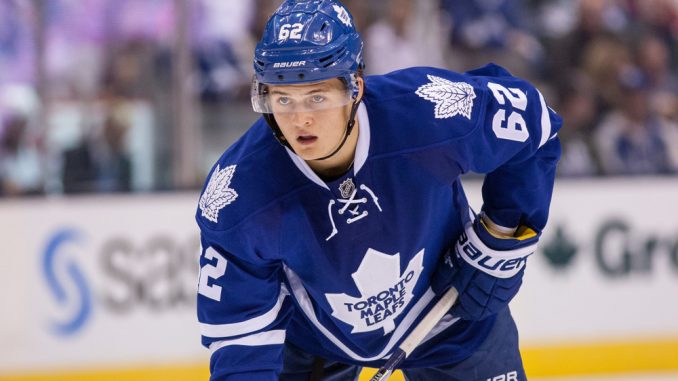 Los Angeles Kings (7-6-0) Vs. Toronto Maple Leafs (5-5-3) Tuesday, November 8, 2016
| | | | | | |
| --- | --- | --- | --- | --- | --- |
| | 1 | 2 | 3 | OT | FINAL |
| LOS ANGELES | 1 | 4 | 2 | 0 | 7 |
| TORONTO | 0 | 0 | 0 | 0 | 0 |
SHOTS FIRED
The Maple Leafs were outshot in tonight's game by a 43-19 margin.
Nikita Soshnikov led the Maple Leafs in shots (4).
Auston Matthews led the Maple Leafs in shot attempts (6).
ON HOME ICE
The Maple Leafs record on home ice is now 4-2-0 following tonight's game.
Toronto's record is 37-26-11-1 all-time in 75 games at home vs. Los Angeles.
OF NOTE…
By going 4-for-4 on the penalty kill, the Maple Leafs have killed off their last 12 penalties.
Toronto went 0-for-1 on the power play in tonight's game.
Tyler Bozak won 64 percent of his faceoffs tonight (7 won, 4 lost).
Jake Gardiner led the Maple Leafs in power play TOI (1:33).
Matt Martin recorded 8 hits for the Maple Leafs.
Roman Polak led all skaters with 11 hits for Toronto.
Morgan Rielly led the Maple Leafs in TOI (23:07), shorthanded TOI (4:31) and blocked shots (4).
UPCOMING GAMES:
Friday, Nov. 11 vs. Philadelphia Flyers, 7:00 p.m. (TSN 4, FAN 590)
Saturday, Nov. 12 at Pittsburgh Penguins, 7:00 p.m. (Hockey Night in Canada, TSN 1050)
Tuesday, Nov. 15 vs. Nashville Predators, 7:30 p.m. (Sportsnet Ontario, TSN 1050)
Thursday, Nov. 17 vs. Florida Panthers, 7:30 p.m. (TSN 4, FAN 590)
Saturday, Nov. 19 at Montreal Canadiens, 7:00 p.m. (Hockey Night in Canada, TSN 1050)
POSTGAME QUOTES
MIKE BABCOCK POSTGAME: NOVEMBER 8, 2016
On the difficulty of facing the Kings:
It was interesting, I looked up at the clock – 12:54 was left in the first – and I thought we had played really well, had the puck the whole time. We didn't take a shot and didn't hit anybody, even at that point, but I thought we skated really good. They were competitive and we weren't. I obviously have to take responsibility for that because we weren't competitive enough to compete at the level of the game tonight for whatever reason. They got better and we got worse and we didn't have any pushback in time whatsoever. As optimistic as everything appears one day and you've won three in a row, you get your lunch fed to you and you're not competitive, not organized and not prepared. We'll go back to work tomorrow, we'll be competitive tomorrow in practice and skate and we'll get ready for our next opportunity. It was a humbling experience for our players and myself here in our building. We have a lot of real good fans that come and support us and they don't want to watch us play like that.
On if he'll make changes to the lines going forward:
That's a great question. I'm going to wake up tomorrow, I'm going to go through the game like I always do and get ready for practice. By Friday I'll have a plan.
On if this type of loss can be put in the past or if it'll linger:
The good thing about it is we'll get up in the morning and the sun's going to get up, we're going to go to the rink and work. After we do our penance we'll probably get on with it, but you're not just going to get up tomorrow and everything is going to be rosy. We embarrassed ourselves here today and so it's like anything, you get to the rink and you go to work and reset what you've got to do and you understand what happened and go from there.
On if the team was too high after the win streak:
No, I don't think that at all. I thought we were going to be good, I thought we practiced real hard yesterday. We didn't practice long, but we practiced hard. I thought we'd be ready to play today. I thought we started, I thought we skated good at the start, we really did. We were jumping and moving and going, but when they competed and played heavy and they won battles, we didn't win any battles. We didn't play heavy, we didn't finish any checks, we didn't win any races. They won them all. Give them credit, they were way better than us. They were way more organized and way more prepared to compete at a high level.
On experience as a factor tonight:
I don't know. I think when I started my coaching career I used to say experience is overrated and I thought that because I had that so there's no sense worrying about that, right? This is our team, this is what we've got, let's find a way to win games. I don't care about the experience.
TYLER BOZAK POSTGAME: NOVEMBER 8, 2016
On the lessons to take from tonight's game:
We didn't do too many things right. They're a very good hockey team, they're very clean in the neutral zone and you can't turn the puck over against them. We did that too much. We didn't get any shots. [Frederik Andersen] kept us in the game for a while in the first period and gave us a chance and we didn't do anything for our goalies tonight.
On why the deficit expanded in the second period:
We played the same way we did in the first. We didn't do enough things right, turned the puck over too much, we weren't hard enough on their guys. They're a big, strong team – experienced. They kind of took it to us tonight and [Andersen] thankfully kept us in it and gave us a chance going into the second, but we couldn't get anything going.
On how the Kings prevent shots:
They don't turn the puck over, they've got good gaps – they're right on top of you, you don't have much time to make a play when you do get the puck. You've got to get pucks in deep – you're not going to score many goals off the rush or anything like that. You've got to work the puck back in their end, get on the cycle, get some point shots, get some screens. We were trying to be too fancy, we weren't getting pucks deep and they were feasting on our turnovers and taking it to us.
MORGAN RIELLY POSTGAME: NOVEMBER 8, 2016
On tonight's game:
We're not very happy with the effort. I think we came out okay. I think for the first 10 minutes we had the puck a little bit and were able to get down low – that's what we talked about before the game was trying to hold on to the puck and create shots. They don't give up many shots at all. That was in our game plan to start with and I think we got away from it. Obviously that's a team that will make you pay on the mistakes you make and that's what they did tonight.
On the game as a measuring stick for competition:
They're a good team, they've been a good team for a long time. We're a group that wants to get to that level where we want to be one of the best teams going in this league. They showed us tonight that we have a long way to go. We've got to look at the video tomorrow at practice, talk about where we can improve and the steps we have to take to get better.


Loading ...