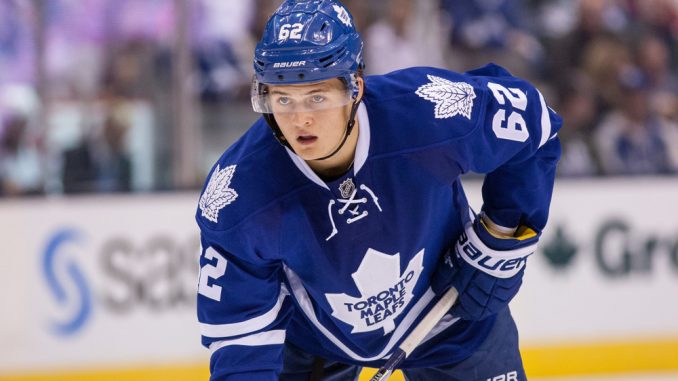 Toronto Maple Leafs have been at the mercy of Montreal Habs for many years now. Luck has never been on Toronto's side and Saturday was no exception, Toronto lost again 2-1. Here is the game summary.
ON THE SCORESHEET
– William Nylander got the Maple Leafs on the scoresheet with a power play goal at 8:47 of the second period. Nylander leads the Maple Leafs in power play points (8).
– Leo Komarov registered an assist on Nylander's goal. Komarov now has points (2-2-4) in three consecutive games.
– Auston Matthews picked up his seventh assist of the season on Nylander's goal.
SHOTS FIRED
– The Maple Leafs outshot the Candiens by a 32-29 margin.
– Toronto outshot the Canadiens 12-7 in the second period and 11-8 in the third period; Montreal had a 14-9 edge in shots in the first.
– Toronto out-attempted Montreal 67-51.
– Nazem Kadri led the Maple Leafs in shots (5).
– Jake Gardiner and Nazem Kadri each recorded 8 shot attempts.
ON THE ROAD AGAIN
– The Maple Leafs are now 1-5-3 on the road this season.
– Toronto's all-time record is 293-340-88-13 in 734 games against the Canadiens and 107-213-43-5 in 368 games played in Montreal.
– The Maple Leafs return home for a game against the Hurricanes on Tuesday.
OF NOTE…
– Toronto went 4-for-5 on the penalty kill and 1-for-4 on the power play.
– Frederik Andersen made 27 saves in the loss.
– Matt Hunwick led the Maple Leafs with 3 blocked shots.
– Zach Hyman played a team-high 4:58 on the penalty kill.
– Matt Martin led the Maple Leafs in hits (7).
– Auston Matthews led Toronto in faceoff wins (10) and power play TOI (4:15).
– Morgan Rielly led all skaters with 34 shifts.
– Ben Smith had a team-high 64 percent faceoff win percentage.
– Nikita Zaitsev led the Maple Leafs in TOI (26:18).
UPCOMING GAMES:
– Tuesday, Nov. 22 vs. Carolina Hurricanes, 7:00 p.m. (TSN 4, FAN 590)
– Wednesday, Nov. 23 at New Jersey Devils, 7:00 p.m. (Sportsnet, TSN 1050)
– Saturday, Nov. 26 vs. Washington Capitals, 7:00 p.m. (Hockey Night in Canada, FAN 590)
– Tuesday, Nov. 29 at Edmonton Oilers, 9:00 p.m. (TSN 4, TSN 1050)
– Wednesday, Nov. 30 at Calgary Flames, 8:30 p.m. (Sportsnet, FAN 590)
MIKE BABCOCK POSTGAME: NOVEMBER 19, 2016
On the team's performance on the road:
Well, the game was close. I expected us to come here and win. They played back-to-back, we had an opportunity and in the end we didn't execute. It was a good game, don't get me wrong. Hard fought, we had our opportunities, all those things. You set expectations for yourself in life and if you set high expectations you have a chance to reach them. If you don't, you settle for second best. To me, we've got to get over the mindset we should be coming in here to win. So we've got to get that fixed.
On goaltending providing confidence for the team:
For sure, [Frederik Andersen], that's why we traded for him. He's a big guy, knows how to play, gives you an opportunity every night and tonight was no different, but we need more run support than one.
On if little mistakes led to the loss:
I think it's just expectation, knowing what you're going to do. We gave them that power play goal, it was a simple little breakdown, but to me you can talk about a whole number of things. I just think the expectation to win and competitiveness from all 20 guys – we can play better and we have to play better.
On the team being more patient than previous road games:
I thought we played fine that way, I thought we got chances. I wasn't concerned about that. I just think there's more. I think there's more to give and you've to get better to lead. You've got to want to win every single night, especially with the best teams. You want to be better than them. You've got to find a way to step up. Our young guys have got to figure out you're not scoring off the rush, you've got to score off the cycle. It's a harder game in the National Hockey League and you've got to dig in.
TYLER BOZAK POSTGAME: NOVEMBER 19, 2016
On facing Carey Price:
They try to keep you away from him and let him see every shot. It's tough to score on him if he sees it so you've got to get bodies in front, hope for a rebound, a good bounce here or there. He's the best for a reason and he played good again tonight, but credit to their team. They played a good game after a back-to-back.
On the hit on van Riemsdyk to end the game:
It's unfortunate that stuff happens at the end of games. Everyone is competing hard and there's not much time left. We're trying to score and they're trying to keep it out. That stuff happens, it is what it is.
On struggles in the faceoff circle:
I don't know, you have games here and there where your timing is a little off and theirs is on. Tonight was one of those nights. I think we brought it back a bit at the end but we want to start with the puck so we want to win more faceoffs.
NAZEM KADRI POSTGAME: NOVEMBER 19, 2016
On tonight's game:
Obviously Carey [Price] played a pretty good game, stood on his head and kind of held them in it while we pushed back. We just couldn't seem to find enough to win the game.
On both teams playing a physical game:
Yeah, physicality was definitely there. Obviously it's a pretty passionate game, a pretty emotional game. It was played with high intensity. I think it was a good game to watch and unfortunately we came out on the wrong end.
On playing against Radulov:
He's a good player, very strong – strong on his feet, strong on the puck. He made some nice plays out there. Not much else I can say.
MORGAN RIELLY POSTGAME: NOVEMBER 19, 2016
On what they'd like to change about the performance:
Not much, a couple of little things. I think we're happy with how we competed. This is a building where we come in and it's always exciting but you want to end up with the two points. Not very much between the two teams tonight in terms of a difference but they got the edge.
On generating scoring chances against Montreal:

I think we had some good ones. I think when you get your opportunities against a guy like Carey Price you've got to take advantage of them, he's going to stop most that he sees. With him you've got to generate traffic, rebounds, tips because that's how you get him most times.
On the team showing maturity on the road:
Yeah, I think so. I think we're happy with the way we battled there at the end. We're right there the whole game, one shot difference. To hang around that long and keep it that close is good, but at the end of the day you want to be able to get one at the end to tie it up and get the point, maybe two. Moving forward there's some positives we can take away from it but that being said, after a loss, there's always stuff you can build off of.
JAMES van RIEMSDYK POSTGAME: NOVEMBER 19, 2016
On being hit at the end of the game:
I'm not sure exactly how much time was on the clock but I just got kind of pushed from behind into the end-wall. No need for that but I know we were battling at the end there trying to get a goal and they're trying to keep one out. Those sorts of things happen.
On if he thought time was running out when he went into the corner:
I wasn't sure exactly how much time was left. I was obviously trying to get to the puck and throw it out but, I mean, when you see numbers it's basic hockey 101 – don't shove a guy into the wall. Hard fought game.
On the team playing a good road game despite not getting the win:
Yeah, you know, they've got a strong team over there and we've got to dig in a little more and create a little bit more. We did some good things tonight but obviously not enough good things, especially around their net to give ourselves a chance to score more goals.
On if the team needed to generate more traffic in front of the Montreal net:
Yeah, if he can see it he's going to save it. He's obviously pretty good at that. We want to make his job harder next time.