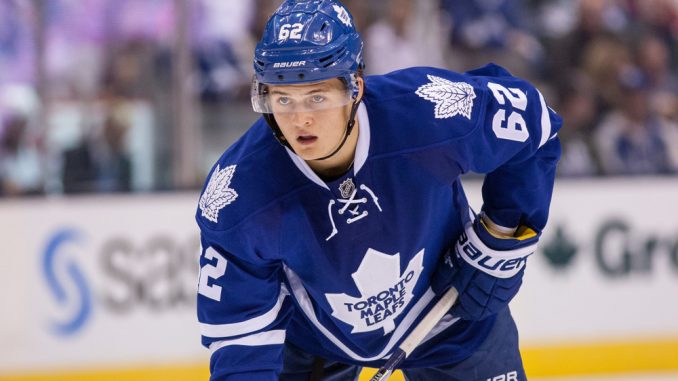 Toronto Maple Leafs blank Colorado Avalanche 6-0. Here is the game summary.
| | | | | | |
| --- | --- | --- | --- | --- | --- |
| | 1 | 2 | 3 | OT | FINAL |
| TORONTO | 3 | 2 | 1 | 0 | 6 |
| COLORADO | 0 | 0 | 0 | 0 | 0 |
GAME SUMMARY | EVENT SUMMARY | FACEOFF SUMMARY

ON THE SCORESHEET
Frederik Andersen stopped 38 Avalanche shots in tonight's game to earn his first shutout as a member of the Maple Leafs and the seventh shutout of his NHL career.
Auston Matthews opened the scoring for the Maple Leafs with his 16th goal of the season at 7:13 of the first period. Matthews has five points (4 goals, 1 assist) in his last five games.
Connor Brown extended the Maple Leafs' lead to 2-0 with a power play goal at 11:49 of the first period. Brown's goal is his fifth of the season and his first power play goal of 2016-17.
Nazem Kadri
gave the Maple Leafs a 3-0 lead with a redirection goal at 18:20 of the first period and added a second goal at 13:00 of the third period on the power play. Kadri has goals (3) in two consecutive games. Tonight is Kadri's third multi-goal and fifth multi-point game of the season. He has 11 career multi-goal and 42 career multi-point games.
James van Riemsdyk scored his 13th goal of the season in the second period. The Maple Leafs are 8-1-2 when van Riemsdyk scored a goal this season.
James van Riemsdyk also recorded an assist on Kadri's goal in the first period. The assist gave van Riemsdyk 300 career NHL points and 100 assists as a Maple Leaf.
Frederik Gauthier made it 5-0 for the Maple Leafs in the second period with the first goal of his NHL career.
Nikita Zaitsev registered the lone assist on Matthews' first period goal and added a second assist on Kadri's third period goal. Tonight's game is the first multi-assist and multi-point game of Zaitsev's NHL career. Zaitsev has points (1-3-4) in three consecutive games.
William Nylander picked up the primary assist on Brown's first period goal. Nylander now has 12 power play points (4 goals, 8 assists) this season, which leads the Maple Leafs.
Jake Gardiner earned his ninth assist of the season in the first period and registered his second assist of the game on Gauthier's first career NHL goal in the second period. The two assists gave Gardiner his first multi-assist and multi-point game of the season. He has 15 multi-assist and 20 multi-point games in his career.
Mitch Marner registered an assist on Gauthier's first career NHL goal and added a second assist on Kadri's third period goal. Tonight's game is Marner's fifth multi-assist and eighth multi-point game of the season. He leads the Maple Leafs in assists (17).
Roman Polak picked up his third assist of the season on Kadri's first period goal. All of Polak's points this season (4) have come against Western Conference opponents.
SHOTS FIRED
The Maple Leafs were outshot by the Avalanche by a 38-31 margin.
Colorado out-attempted Toronto by a 65-56 margin in all situations and 46-40 at 5-on-5.
Jake Gardiner registered a team-high four shots.
Jake Gardiner and Auston Matthews each registered six shot attempts.
ROAD SCHOLARS
The Maple Leafs are 4-6-5 on the road this season and 4-2-1 in the first leg of back-to-backs.
Toronto's all-time record is 30-37-9-2 in 78 games against the Avalanche and 12-18-5-1 in 36 games played on the road.
Toronto is now 5-6-5 against the Western Conference this season and 2-3-2 against the Central Division.
The Maple Leafs play their final game before Christmas tomorrow night (Dec. 23) when they visit the Arizona Coyotes.
MAPLE LEAFS LEADERS
| | |
| --- | --- |
| Faceoff Wins | 9 (Kadri) |
| Faceoff Win Percentage | 58% (Gauthier – 7/12) |
| Hits | 3 (Martin) |
| Blocked Shots | 4 (Gauthier) |
| Takeaways | 2 (Hunwick, Matthews) |
| TOI | 24:13 (Gardiner) |
| Power Play TOI | 5:09 (Gardiner) |
| Shorthanded TOI | 7:02 (Hunwick) |
| Shifts | 30 (Gardiner, Zaitsev) |
| 5-on-5 Shot Attempt Percentage | 61.5% (Kadri – 16 for, 10 against) |
OF NOTE…
The Maple Leafs have now scored 34 first period goals this season, which is tied for the most in the NHL.
Toronto is 11-4-5 when scoring first this season.
The Maple Leafs are now 8-1-4 when leading after one period and 11-1-5 when leading after two periods.
Toronto has a 9-4-2 record when outshot by their opponents.
Maple Leafs rookies combined for eight points (3 goals, 5 assists) in tonight's game. Toronto's rookies had combined for 103 points (40 goals, 63 assists) in the Maple Leafs' previous 31 games.
Connor Brown played a career-high 20:02.
Connor Carrick was on the ice for the most Maple Leafs shot attempts at 5-on-5 (24).
UPCOMING GAMES:
Friday, Dec. 23 at Arizona Coyotes, 9:00 p.m. (Sportsnet Ontario, TSN 1050)
Wednesday, Dec. 28 at Florida Panthers, 7:00 p.m. (Sportsnet, TSN 1050)
Thursday, Dec. 29 at Tampa Bay Lightning, 7:30 p.m. (Sportsnet Ontario, FAN 590)
Sunday, Jan. 1 vs. Detroit Red Wings, 3:00 p.m. (Sportsnet, FAN 590)*
Tuesday, Jan. 3 at Washington Capitals, 7:00 p.m. (TSN 4, TSN 1050)
*2017 NHL Centennial Classic™
POSTGAME QUOTES:
HEAD COACH MIKE BABCOCK
On tonight's performance:
It was good. The reality was, especially in the first, there were so many penalties. Lots of guys just sat around there. We were able to capitalize on our power play and we were able to keep it out on our penalty kill. Two 5-on-3s, you don't experience that. I talked about discipline today, the coach should be more disciplined, but obviously it was one of those nights. Our goalie was good and we found a way to shoot it in the net.
On Matthews scoring the first goal of the night:
I thought it was important. I thought they skated pretty good early and then we got that goal and seemed to get some traction going. That line was really strong for us playing against MacKinnon's line tonight.
On the team scoring six goals after generating chances in previous games:
I think it's important. Obviously we really – we had our best segment of the year in scoring chances and it just didn't show in the win-loss department in a lot of those games. You felt when you left the rink you had done a lot of good things but you weren't getting rewarded. That's life. You've got to stick with it and you've got to learn how to win. Tonight wasn't one of those tight games so it wasn't an issue but it sets us up for a big game tomorrow. We'd obviously like to finish on a good note.
FREDERIK ANDERSEN (38 Saves, Shutout)
On his first shutout with the Maple Leafs:
It felt good. It's always fun when you play a good game like that. Cool for [Frederik Gauthier] to get his first goal here too.
On his confidence level in tonight's game:
I felt pretty good and we did a really good job on the PK. We talked about taking too many penalties but I think – it happened again today, but we did a good job of keeping them away from scoring goals obviously. It was positive.
On the offence coming to life after several low-scoring games:
I think we came right at them. We didn't win the game last time [against Colorado] and we weren't going to let that happen again. We got in [Varlamov's] face more than we did last game and he couldn't see the shots obviously so we scored a lot of goals.
FREDERIK GAUTHIER (1st Career NHL Goal)
On the play leading to his first goal:
It was just a missed shot on net. I was trying to get the rebound and get it turned back. I got it in the middle, got a nice pass and tried to shoot it as fast as I can. It worked.
On if he reflected about chances to get his first goal last season in the offseason:
Maybe not [looking back] in the summer – last year if I took a chance I would have thought about it. This year I didn't really think about it. It happened today and it feels great.
NAZEM KADRI (2 Goals, 56% Faceoff Win %)
On scoring the first goal:
It's always important when you're in a hostile environment to get the first goal on the road. It's very important to get a good start and I think it makes [Andersen] a little more comfortable when we get a couple of goals and play with the lead. All around a good job tonight.
On chemistry between himself and Marner:
I think we played well. We cycled the puck, we had a lot of possession, a lot of scoring chances. James [van Riemsdyk] was great tonight too. Collectively we were good.
On Andersen's play:
He was a brick wall, nothing was getting past him. They had a couple of opportunities that had chances to find the back of the net and he stood strong in there. He has been good for us all year. Even on the power play, two 5-on-3s, our special teams on the PK did a wonderful job. Andy is just a safety valve back there for us. It was good.
AUSTON MATTHEWS (1 Goal, 17:22 TOI)
On his goal:
[Connor Brown] did a really good job and got in there to push their D back a little bit and I tried to use their D as a screen. It kind of snuck under his arm. A lot of things went into that play. It was a pretty good start for us.
On the offence scoring six goals:
It was huge, all lines contributed tonight. I think that's the biggest part. Everybody was full throttle; we didn't back up. Momentum can swing to their side but [Andersen] came up big and we controlled the play for the most part.